41 Views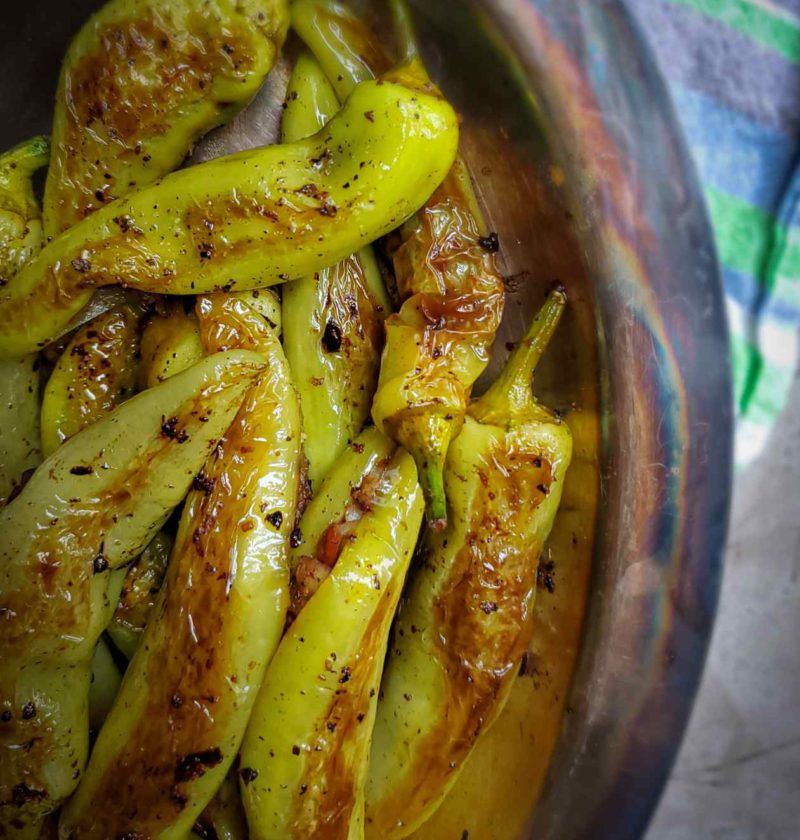 Yields:

6 Servings
Difficulty:

Easy
Prep Time:

15 Mins
Cook Time:

6 Mins
Total Time:

21 Mins
This is one of my favorite grilled stuffed banana peppers recipes that I learned from my mother-in-law. I love that it's so easy and needs minimal cooking. And nevertheless, it's super delicious and can serve at any party or gathering.
What you basically do in here is making a sambol (a salad) with finely chopped onions, lots of Maldive fish flakes, and some Sri Lankan spices. And then you stuff the banana peppers with this mixture and grill on a pan. The stuffed onions get cooked with the spices and absorb the umami flavors from the fish flakes. Super yummy. Make them you'll see what I mean.
The recipe is very easy and straightforward. But I wanted to give you the following tips to make it more flavorful.
Fill the banana peppers as soon as you mix the onion mix and grill them. What happens is the salt start to release the water from the onions. Then your onion mixture starts to get soggy. So make the sambol when you're ready to fill them. You don't want to end up with soggy grilled banana peppers, do you?
Use your hands to mix when you make the onion salad. And make sure you lightly crush the onions while you mix.
Remove the seeds of the banana peppers using a spoon and make sure you wear kitchen gloves when you work with banana peppers.
If your banana peppers are very fresh, they're not much flexible and tends to break when you try to remove the seeds and fill them with the mixture. In this case, you can blanch then in hot water for a few seconds to get them a little flexible.
Do not add too much oil when you grill the peppers. And do not grill in low heat and for too long until they become soggy.
Serving options:
Two peppers are enough for one person.
You can serve them with rice and curries or as a side dish for any meat. Great for dinner parties. I love to serve with  Sri Lankan yellow rice and Black pork curry
Check out my banana pepper curry recipe too.
I really hope you try these grilled stuffed banana peppers recipe. And don't forget to rate and leave a comment if you do so. And if you have any questions that need quick answers, you can easily contact me through my Instagram or Facebook page or email.
Wash and put a long slit on each banana pepper. And remove the seeds. Highly recommend using gloves when you work with banana peppers. Also, if the banana peppers you're using are very fresh and break easily, then blanch them in hot water for a few seconds to soften them up.

In a bowl, mix onions, Maldive fish flakes, Sri Lankan roasted curry powder, salt, and lime juice. Mix well using your hands. gently crush the onions with your fingers as you're mixing. Make this mixture only when you're ready to stuff the peppers and grill. Do not let it sit on the counter.

Fill all the banana peppers with the mixture. it's easier to use hands for this. But make sure you wear gloves.

Heat 2 tsp of oil in a large pan. Lay all the banana peppers. Leave space between each banana pepper. Sprinkle some salt and pepper on the top. Let one side of the banana peppers brown and then flip and let the other side brown too.