52 Views
Yields:

10 Servings
Difficulty:

Medium
Prep Time:

2 Hr 30 Mins
Cook Time:

10 Mins
Total Time:

2 Hr 40 Mins
These Chicken cheese bites with Habaneros are literally the best thing I've made in my life! Seriously!! My mouth is watering as I'm writing about them right now. If someone asks what is the best recipe I've come up with, this would be it! If you love hot food and cheese together you wouldn't find a better snack than this chicken cheese bites with habanero (Kochchi bites). 
There is a snack in Sri Lanka known as "Kochchi Bites" which is available only in certain grocery stores. I absolutely adore them. I created my chicken cheese rolls with Habaneros recipe keeping the taste of Kochchi Bites in mind. But Kochchi Bites actually have cheese in them that melts and oozes out when they are fried. These chicken cheese bites with Habaneros I made are like a carbon copy of those "Kochchi Bites". They are crunchy, hot, and filled with cheese that melts when you fried. 
It wasn't my intention to make this recipe in the first place. I wanted to retest the filling of chicken and cheese rolls recipe I made earlier before I write it down on the blog. But I accidentally over grounded the filling in the food processor. And I like my rolls filling to be chunky. So I added a few more stuff to the food processor and stuffed with some mozzarella cubes and made them into these cute chicken cheese and habanero crunchy goodies. Possibly the best thing that happened to me through a mistake I've made. 
I really hope you'll try this recipe. You won't be disappointed. I promise. But before you go to the recipe please read the tips I have given you below. Very Important so please don't skip these points.
Please use gloves when handling the filling. You'd thank me later.

Double coat the chicken cheese balls with batter and breadcrumbs. You need a good tough coating to prevent them from splitting. 

Refrigerate breaded chicken cheese balls for 2 hours. Which makes the batter dries out and bread crumbs to stick to the balls better. Also it's quicker to fry dried out balls.

The oil should be very hot. Around 350F/ 170c. If you have a thermometer, use it. If not, put a piece of breadcrumbs into the oil. It should bubble and pop on to the surface right away. 

Do not overcrowd the pan. I only fry 3 at a time. When you put more chicken cheese balls into the oil, the temperature of the oil drops drastically. Causing more time to fry plus the balls absorb more oil in. With the cheese filling inside, it's very important to take the shortest amount of time possible to fry these before the cheese ooze out. 
Freezing options: Lay the breaded chicken cheese and habanero bites on a baking pan or a plate with some space in between each other. Freeze for about 6 hours. Then take the tray out and put the bites into a ziplock bag and put back into the freezer. Whenever you want to have them, thaw them completely and fry. I hope you enjoy chicken cheese bites with habanero (Kochchi bites), would love to hear how they turned out.
Pin this to your favorite Pinterest Boards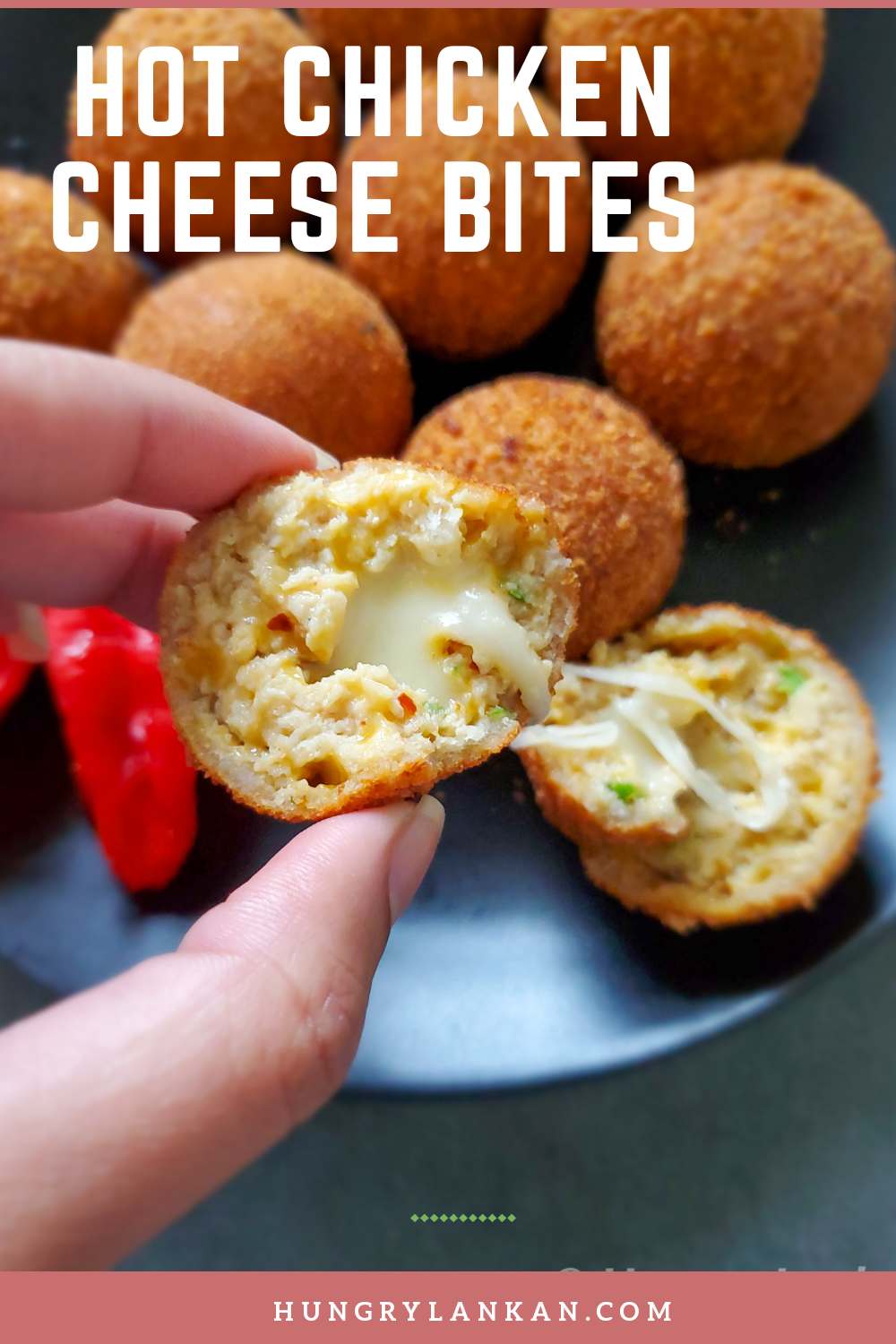 Some items that are mentioned in the recipe (Affiliate Links)
Adjust Servings
For the filling

For breading and frying
Making filling and the balls

Mix everything except mozzarella cubes in the "filling" list together in a food processor until you get a crumbly paste. If you don't have a food processor, grind the habanero first in a mortar and pestle and add that to everything else and mix with your hands. Make sure to use kitchen gloves.

Make lime size balls. These do not have to be perfectly round. Now flat teach ball into a disc-like shape. Put a mozzarella cube in. Fold the edges of the disc inside and completely cover the mozzarella cube with the meat filling.

Roll between your palms to make it into a tight ball. No air should be left inside. Oil your hands if the filling sticks on to hands.The surface of the ball should be smooth. And the meat filling should cover the mozzarella cube completely. You can Make 10 balls out of the amount I have given above.

Breading:

Make a thick batter using some flour water and salt. Or you could use beaten eggs too. Arrange bread crumbs in a separate container. Then dip one ball at a time in the batter. Use a fork for this for easier handling. Then roll it on bread crumbs and cover the balls evenly. Gently press breadcrumbs with your hands to the ball to ensure that they stick to the ball. Do this to all the balls and lay them on a plate.

Do this breading process one more time with all the balls. Double coating is so important in this recipe.

Then arrange all the breaded balls on a plate with some space in between and refrigerate for at least 2 hours. This helps dry out the batter so the breadcrumbs adhere better to the meatball. This process also dries out the surface of the balls, which makes it quicker to fry.

Frying

Heat oil in a deep pan or fryer. Add a generous amount of oil for deep frying. Fry the chicken cheese balls until they are golden brown. Keep turning them frequently in the oil to get even browning. (read the tips I've given in the description above)