You won't believe how good these Air-fried Salmon belly strips are. Seriously they're one of the best things you can make in your air-fryer. I do it with Thai flavors with a good amount of chilies and garlic. Please try the recipe cause I know you're going to love these.
I think salmon belly is the most underrated part of salmon. I know when you look at them they look kind of weird and look like too much skin. But they actually turn out to be the juiciest, fattiest, and most delicious part of salmon when you cook them. And the good thing about cooking Salmon belly strips in the air-fryer is that you get to preserve all the delicious salmon oil and the skin turns out crispy while the flesh becomes the moistest.
Ingredients, Prepping, and where to find them
You only need a very few ingredients for this recipe. Most of these ingredients can be easily found in many Asian grocery stores. Some may be available in your local stores as well.
Salmon belly: Of cause, you need salmon bellies for this recipe. I get mine from a Japanese grocery store nearby. Look for an Asian store that also sells fish, they usually carry salmon belly for a very reasonable price. Salmon bellies are usually cheaper than salmon fillets or steaks. They come with finlets attached. I usually cut and discard finlets as they are inedible.
Oyster sauce: A must for the recipe. Can be found in almost all Asian grocery stores. Use a premium brand if possible for the best flavors. I use Lee Kum Kee oyster sauce which is a Chinese brand but you can also use Thai brands as well (such as the Healthy boy brand)
Garlic: I don't think I need to explain this, do I? Garlic adds so much flavor to this recipe so don't skip it. You can use less or more depending on how much you like garlic.
Thai red chilies: These chilies are very hot, you guys! And you'd probably think this is too many chiles for the recipe. But since you add in the marinade, salmon bellies don't end up as hot as you think they would. Trust me on this. But you can always use fewer chilies if you don't like your food hot. You can get them from Asian stores. Fresh and sometimes come as frozen packs. Both are fine.
Palm sugar: I know I'd like to cut down on sugar too. But you need a sweet element in the recipe to balance out the savory and salty flavors. Substitute with regular white sugar if you don't have palm sugar.
Fish Sauce: Again, a must-have ingredient. Widely available in Asian grocery stores.
Toasted sesame oil: This is the ingredient that adds smokiness to the dish. Very strong and can be over-powering. Don't use too much. Or if you don't like the sesame flavor, you can even skip this.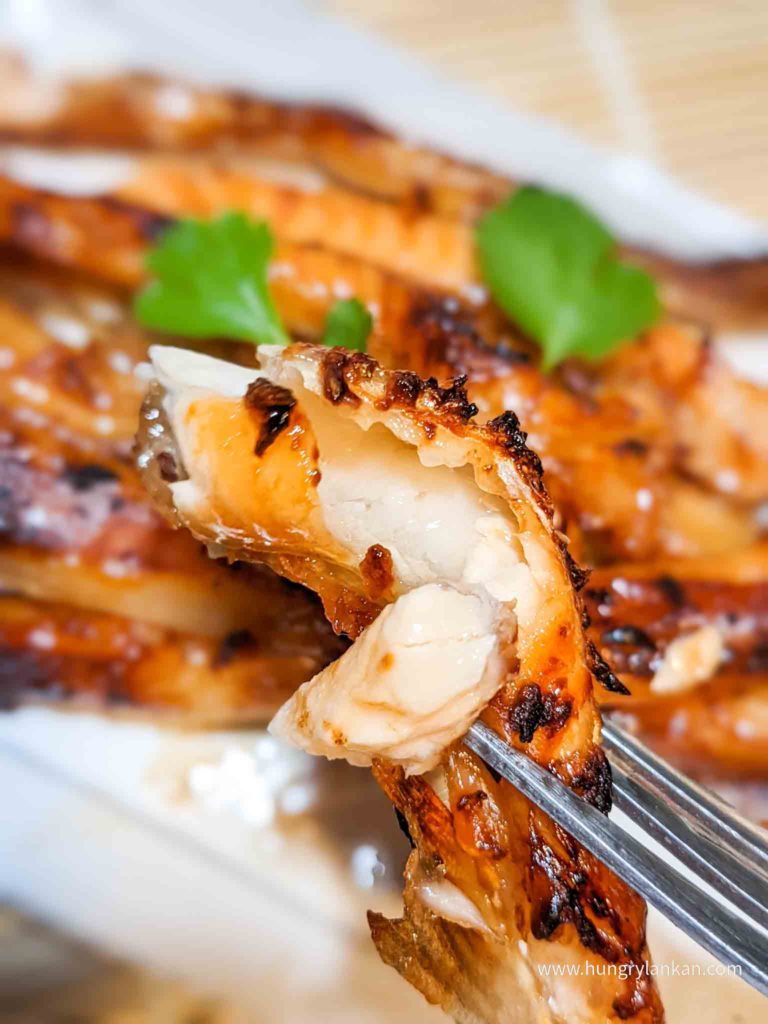 Any special types of equipment?
Yes and no. Yes because I use a mortar and pestle. No, because you can easily make this in a small chopper, food processor, or in a blender cup. I personally like to use mortar and pestle because it pounds the ingredients rather than chopping. Which makes them release more essential oils and by that more flavor. If you're into Asian food, I highly recommend investing in a mortar and a pestle. Such a handy thing to have in a kitchen.
Serving Suggestions:
I usually serve this with either garlic fried rice or jasmine rice and a side of steamed broccoli or some kind of vegetable. It's good on its own too. 1.5 lb of Salmon belly is enough for 4-5 good size servings.
Love Asian food? Check out my other Asian recipes as well.
Products and Equipment I use (Amazon affiliate links)