My Sri Lankan style vegan lotus root curry made with spices and coconut milk. A healthy one-pot dish that is so good to have with rice.
Lotus root curry is one of my favorite curries to have with Rice and it's absolutely nutritional and has a lot of dietary fiber. My mom used to buy these from the Sunday market where we grew up and I remember we used to cut them in half and used them as stencils for school projects. Lotus root has a very firm texture and kind of an earthy flavor. So it's absolutely delicious in curries.
They're somewhat tough when they're raw. And they usually get mud inside if the root is broken. So whenever you buy lotus roots, make sure to buy the full root that isn't broken. And always check and clean insides for mud. You also have to scrape or peel the skin before you use them. You can either use your peeler or a knife to scrape it. I also recommend washing the lotus roots with salt and vinegar water to remove any germs. This will also remove some of the starch and make them tender a bit and also adds some flavors.
There're two ways you methods you can cook this particular curry. You can either cook it as a one-pot dish for longer, which is my preferred method. Since it gives more time for lotus roots to absorb flavor and less cleanup. But if you're in a hurry and you don't want to cook the lotus roots for a very long time, then you can scrape/peel the skin, slice and pressure cook them with some salt and a piece of goraka (garcinia Cambogia) added. And then cook it as below. Just make sure to reduce the amount of liquid you add to the curry since the lotus root slices are already tender. Whichever way you prepare this vegan curry, I'm sure you're gonna love this.
For this curry, you're going to need garcinia cambogia aka Goraka in Sri Lanka to add some sourness to the curry. If you don't have this ingredient, then you can add a bit of lime or lemon juice at the end to balance out the flavors.
I'd like to serve this vegan lotus root curry with some rice, red lentil curry, and any green salad. If you like to eat just lotus curry and rice, then this would be 2 servings. If you eat with other curries and salads, then this is for 4 servings.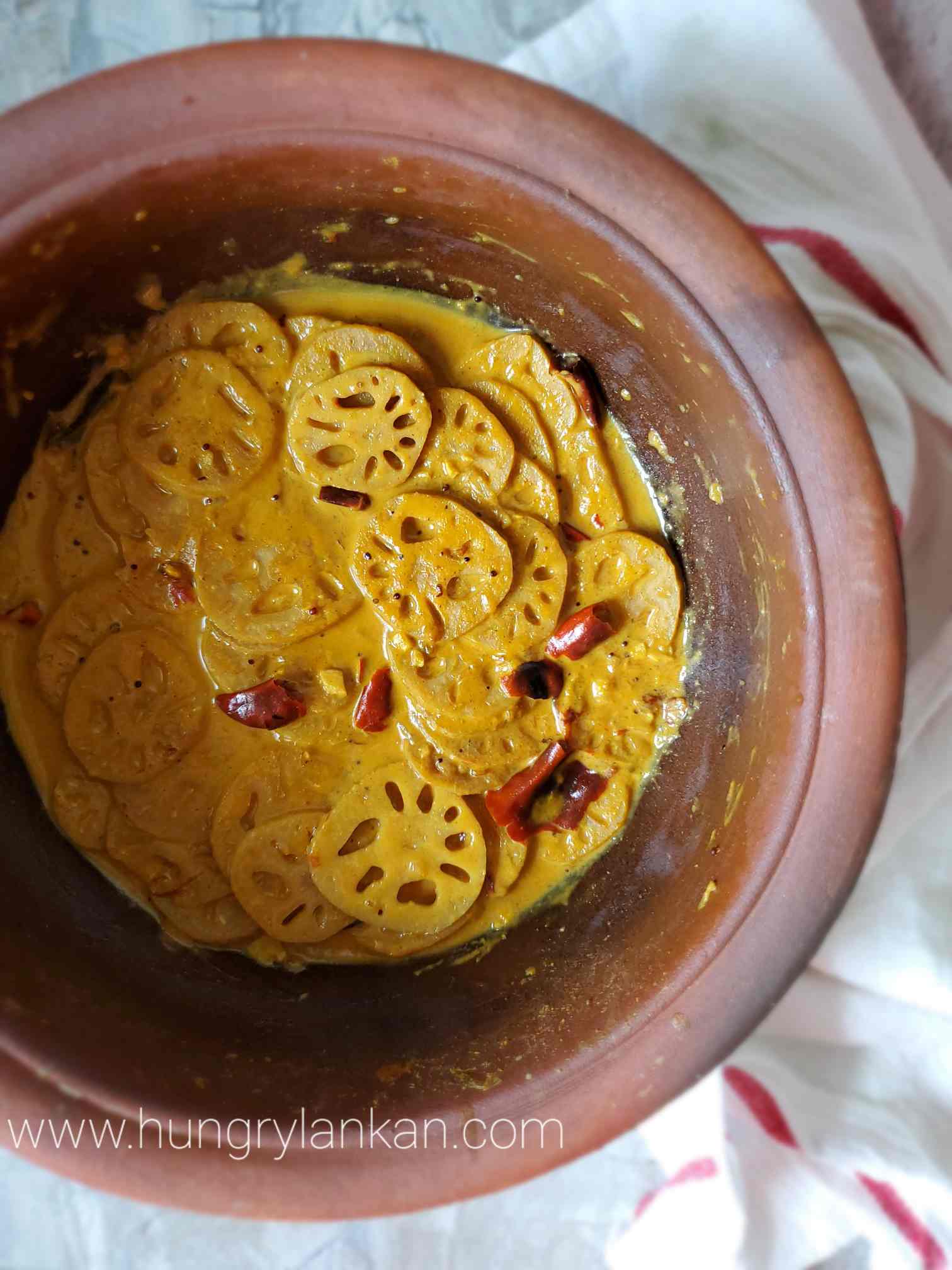 Vegan lotus root curry
Description
My Sri Lankan style vegan lotus root curry made with spices and coconut milk. A healthy one-pot dish that is so good to have with rice.
To wash the lotus root
For the curry
Instructions
Cut the ends of the lotus roots. Wash it thoroughly to remove any mud or impurities. And peel or scrape the skin off. Then cut the lotus roots into very thin slices. Probably about 1mm to 2mm thin. If you cut them thinner they would cook a lot quicker. Wash the slices to remove excess starch.

Now add all the lotus root slices to a bowl and add some water. Mix about a tsp of salt and a tsp vinegar to the mix. This would help to remove some of the germs. (optional step, you can skip if you want)

Heat 2 tsp oil in a pot. Add mustard seeds, fenugreek seeds.

When the mustard seeds start to splatter, add curry leaves, dried red chilies (broken and seeds removed). Mix for few seconds until chilies start to brown a little bit.

Now add chopped onion, garlic, piece of garcinia cambogia (goraka) and let it cook until the onions start to sweat.

For that, add curry powder, chili powder (you can skip or reduce the amount of chili powder you add according to your likings.) and turmeric powder and salt to your taste. roast the spices in oil, continuously mixing.

Now add the lotus root slices (without the salt-vinegar water) and mix well with the spice mixture.

When everything is nicely mixed together, add very thin coconut milk or water to cover all the lotus root slices. Put the lid on and cook until lotus root slices are tender. ( You might need more or less than one cup.) If you use canned coconut milk, mix about 1 1/2 tbsp with water to make thin coconut milk. If you use freshly squeezed coconut milk, then use the third or fourth squeeze.

Halfway through the cooking, taste the broth and see if it's sour and salty enough. You can remove the Garcinia/Goraka piece at this moment if you can already taste enough sourness from the curry. Don't wait too long since you only need to add a hint of sourness. Also, adjust salt if needed. Cover again and cook, until you get a little to 1/4 cup of broth left or until the lotus root slices are tender. If the pieces aren't tender yet, you can add some water and cook a bit more longer. (Keep in mind that lotus roots always have some bite to them so you cannot get them super soft.)

Finally, add thick coconut milk and cook on medium-low heat until you get the desired consistency. Stir few times.
vegan, lotus, lotus root, lotus root curry, nelum curry, nelum ala, sri lankan, sri lanka