This Sri Lankan vegetable soup is all I crave when I'm sick and have no appetite for any other food. It's light, healthy, delicious and very comforting. Super easy to make too.
Growing up in Sri Lanka, where it's always hot and humid, soup was not a meal we had regularly. But whenever someone is sick, the first thing we make is a vegetable soup. It's easy on your tummy, healthy and nutritious and gives the warmth that you need.
When I say vegetable soup it doesn't necessarily mean it only has vegetables. In my home, we always make it with chicken broth or stock. My mom sometimes add shredded chicken to the soup as well. But you can make it with vegetable broth if you serve this to a vegan. It'd still be very delicious.
Another addition we always have in our Sri Lankan vegetable soup is noodles. I use egg noodles now but when I was in Sri Lanka we always added Maggie noodles (a variety of instant noodle). It adds carbohydrate to the soup and also some texture which makes it interesting to eat. Especially if you have young kids they'll love some noodles in the soup. You can skip noodles if you want to make it low carb. Or if you don't like it. Who doesn't like noodles though?
Recipe Video
A few tips to elevate the flavors and texture
Use good quality butter. It makes a huge difference (I use Karrygold brand butter)
Always saute your aromatics in butter. Especially curry leaves and garlic. It helps curry leaves to release their essential oils to fat. Which later carry throughout the whole dish. So you get better aroma as well. Sauteeing garlic in butter helps to remove the raw smell of the garlic and it adds more flavor to the dish.
Saute veggies in butter helps to deepen the flavors. Especially if you're using leeks. Sauteing leeks helps to soften them up and also adds a slight sweetness to the dish which complement very well with the slight acidity of tomatoes.
 Use broth or stock instead of water. It's healthier and flavorful. You can use any broth or stock of your choice. I always prefer chicken broth or stock.
Leave some chunks of vegetables when you blend the soup. It's nice to chew on pieces of vegetables since they add a different texture. I usually use an immersion blender. But you can transfer ⅔ of the soup to a blender and blend it.
Wash your lentils very well before you add them to the soup. They make a lot of foam on the top otherwise.
Use freshly ground black pepper and always add it at the end of cooking. It adds a nice peppery flavor as well as a nice appetizing aroma.
Do not overcook your noodles. Soup as a liquid retains a lot of heat so noodles cook super fast when you add them to the broth. Turn off the heat when they are about 80% done. They will continue to cook in the residual heat.
Can I prepare this vegetable soup in advance?
Yes! But do not add noodles when you prepare it. Noodles swell a lot by absorbing liquid and they will also dissolve in the soup as they sit in the liquid.
What I usually do is, I make the soup without noodles and store it in the fridge. And when I'm ready to serve, I reheat the soup on the stove and add noodles and simmer until noodles are done
You can also cook noodles separately. Mix in with some butter and store them in the fridge in a separate container. Mix noodles and the soup when you are ready to serve. 
What to serve with this Sri Lankan vegetable soup?
I usually serve it without anything as for me it's a complete meal. You can serve with a few crackers or small soup cups as a side for sandwiches (get my fool-proof sandwich bread recipe here). Toasted bread goes well with this Sri Lankan soup as well.
Always serve it warm.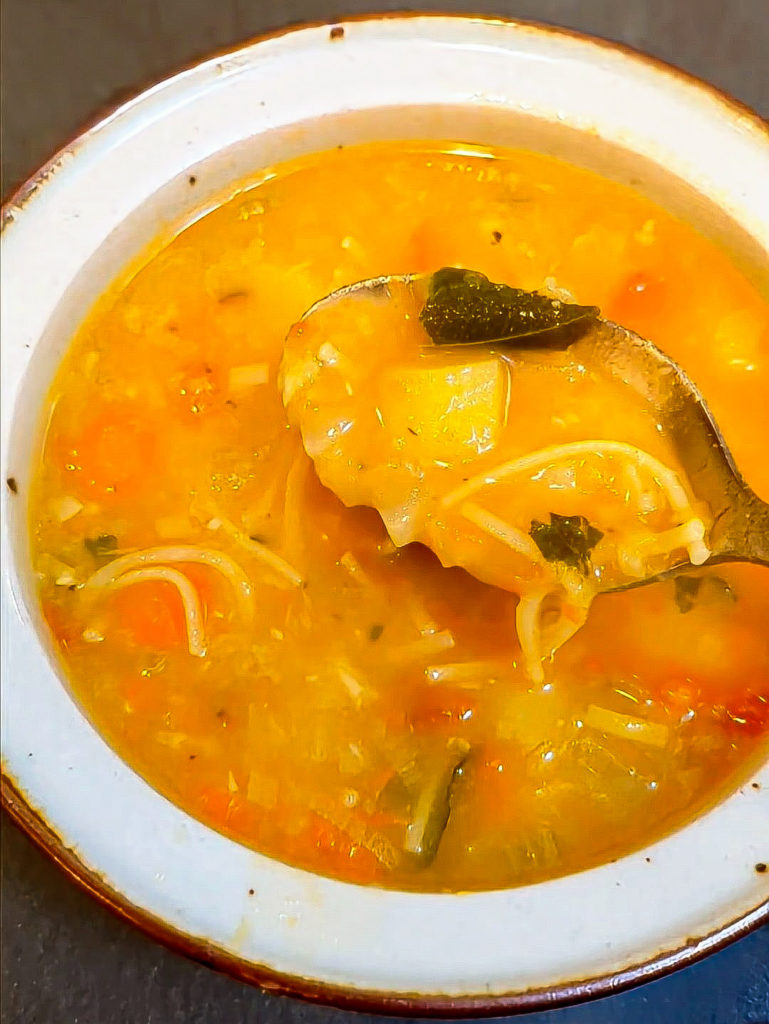 Sri Lankan Vegetable Soup
Description
This Sri Lankan vegetable soup is all I crave when I'm sick and have no appetite for any other food. It's light, healthy, delicious and very comforting. Super easy to make too.
Instructions
Heat a soup pot and add butter into it. Keep the heat medium. Add garlic and and curry leaves. Sauté until garlic turns soft. (curry leaves splatter when added to hot butter. be careful)

Add carrot, leeks, celery and cabbage (sliced green bean is also a common vegetable that you can add). Also add salt (do not add too much as many broths contain salt). Sauté until leeks turns wilted and soft. 

Then add potatoes, tomatoes and red lentils. Sauté for about a minute. Add the broth. Mix everything. Cover and simmer until all the potatoes are fully cooked and mashable. Turn off the heat.

Now using an emersion blender, blend the soup until about half of the vegetable pieces are blended*. (Or you can transfer half of the soup to a regular blender and blend it)

Turn the heat back on and bring the soup to simmer. Add noodles. Cook until noodles are about 80% cooked (it will continue to cook with the residual heat). Add black pepper and turn off the heat. Adjust salt if necessary.
Notes
1/2 of a leek roughly equals to 2/3 cup of sliced leeks. 
Do not add too much cabbage as it can make the soup smell bad.
There's no real measurements you have to follow for noodles. If you like more noodles, you can add more. If you like less you can add less. It's all about personal preference. Please read the "can I make it in advance" section on the description to read more about adding noodles.
If you like a smoother soup you can blend the whole soup. Or if you like it more chunky blend it a little bit or you could leave it without blending at all.
Soup, Vegetable soup, Lentil soup, Sri Lankan vegetable soup, Easy soup, Healthy soup, Sick day soup, Sri Lankan food