Sri Lankan mango curry is one of those dishes that you taste once and you're going remember how good it was for the rest of your life. It's sweet, tangy and spicy, and aromatic. The green mangos become so soft and jammy. One piece of mango from this Sri Lankan mango curry can elevate any rice dish that you're having, to a whole new level.
I know, cooking mangoes may sound weird if you're not familiar with it. But in Sri Lanka, we make many savory dishes with green mangoes from mango curry to chutneys to mango mixed meat curries and many more. Mangoes are way less sweet and a whole lot tangy when they are green and unripened. The flesh is hard so they hold the shape better but both the flesh and the skin become nice and soft when it's properly cooked.
This curry shouldn't be rushed at all. Mine usually takes about an hour of cooking time. I always cook mango curry low and slow. So the mango flavor steeps into the curry and make it flavorful. Mango pieces become nicely soft and jammy all throughout.
Finding the right mangos for the curry?
Always go for a young green mango that has green or light yellow flesh. Slightly ripened mangos work fine too.
If the mango molds slightly when you press with your finger, it's too ripe for this Sri Lankan mango curry. Also, mango varieties that have a lot of fiber are said to be better for the curry. They hold the shape better and have a better texture when cooked. In Sri Lanka, the most common variety that we use for the curry is called "Kohu Amba". But living in the US for years now, I never find Sri Lankan mango varieties here. I use any green mango I can find and they turn out just as good.
How much sugar to use?
It depends on how sour your green mangoes are. If the mangoes are too sour then you might want to add more sugar. Sometimes I use slightly riped mangoes which are comparatively sweeter. Then I usually reduce the amount of sugar I use. If you want to avoid adding sugar, then getting a slightly ripened mango (but make sure the flesh is not soft) is the way to go.
Sri Lankan mango curry usually goes more towards the sweeter side than sour or tangy. I'm not a person who likes sweet curries but this one is better when it's a little sweeter. It also helps the curry to last longer without going bad.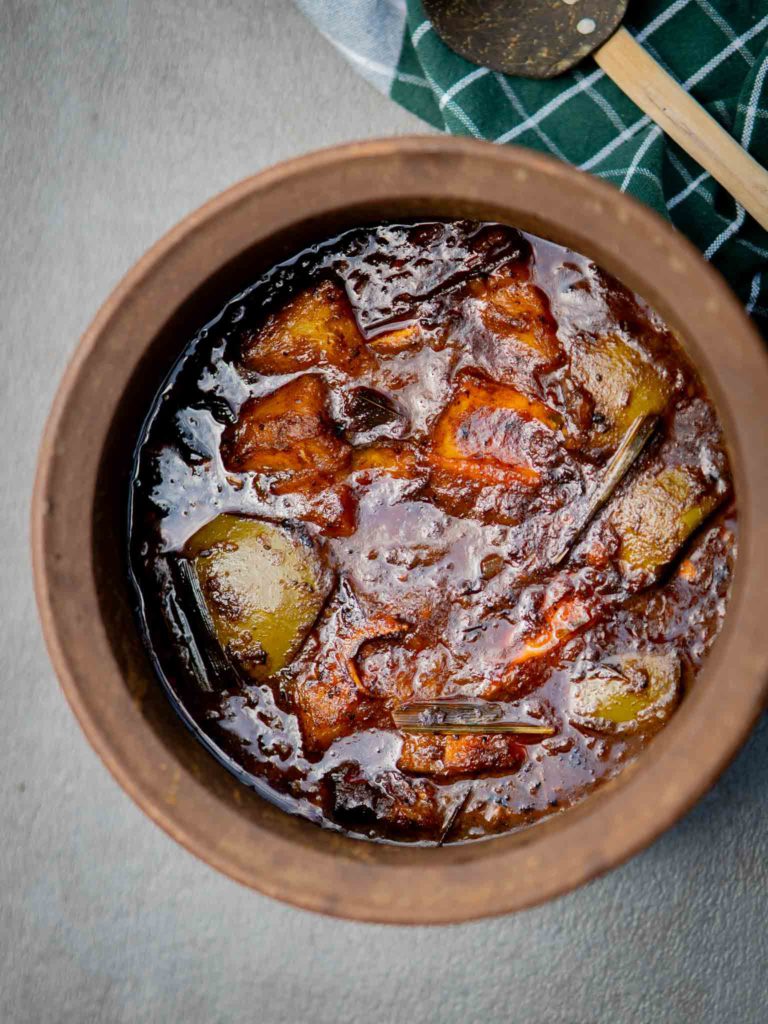 Serving Ideas:
Sri Lankan mango curry is mostly paired with rice and curry menus. Especially for lunch. Because of the high sugar content, this curry can last longer than most other curries. You can keep it for about 24 hours without refrigeration. And about 2 - 3 weeks in the fridge.
You can serve this with any rice and curry pairing of your choice.
My favorite menu to serve this mango curry is with Sri Lankan Yellow Rice, Red lentil curry, and fried fish.
I also like to serve it with spicy potato curry, Gotu kola Sambol and white rice.