Easy and quick Spicy Pan-fried Pompano fish recipe to everyone out there who are fed up eating chicken all the time. Serve this with a side salad for a wonderful dinner. Trust me everyone is going to ask you to make it again.
I love fried fish. Way more than I love meat or poultry tbh. Growing up my mom made any kind of fish dish at least for 3- to 4 meals a week. I'm Sri Lankan and we had access to fresh fish all year around. When saltwater fish is out of season we had freshwater fish. Never frozen and usually from the morning catch each day. There was a seller riding a bike with fish and ice in a box that tried into a back rack in his bike. And our "fish guy" knew us by our names cause my mom was such a good customer. And he has so many varieties of fish in that small box and every now and then he'd bring new kinds of fish for us to try. Bonus, he would even teach us the way to cook that. Oh, the good old days I miss.
Anyhow now I live in the US where people are so obsessed with Salmon and have no idea how to eat small fish. I was struggling to find a good fish variety that I can fry and eat as I used to. Then luckily a friend suggested Pompano and I was able to get them from an Asian grocery store. It was very very similar to a fish variety we called "Paraw" and my goodness how happy that made me feel. lol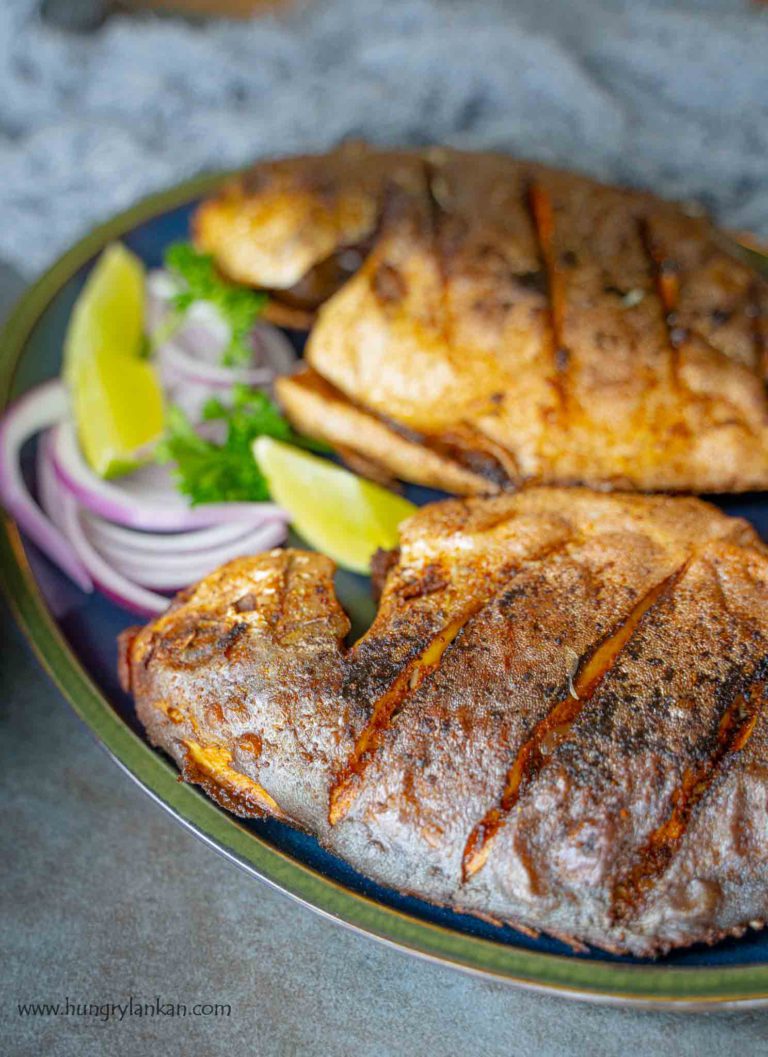 Recipe overview
Trust me this recipe cannot be any simpler than this! Here's what you do.
Add a few slits to the fish. And then mix it with chili powder, black pepper, salt, pepper, and lime. We let the fish soak up the salt and lime for a little bit and then we fry it. Yep simple as that.
Don't like it spicy?
No problem. All you have to do is to skip adding chili powder or replace it with a mild chili powder of your choice. Still very very delicious!
What to Serve with?
One pompano fish is just the right size for one serving in my opinion. It would go with any salad and with rice. I personally like to serve with a salad that has some pineapple or apple. Sweet tangy ingredients go really well with this Pan-Fried spicy Pompano. I also love to have this for my Sri Lankan yellow rice and curry menus.
For a sauce, I like to serve with spicy-sweet tamarind sauce
(Tamarind + Sugar + Thai chilies + Fish sauce).. My husband on the other hand really likes Lemon Mayonnaise. (just mix up with some Mayo with Lemon)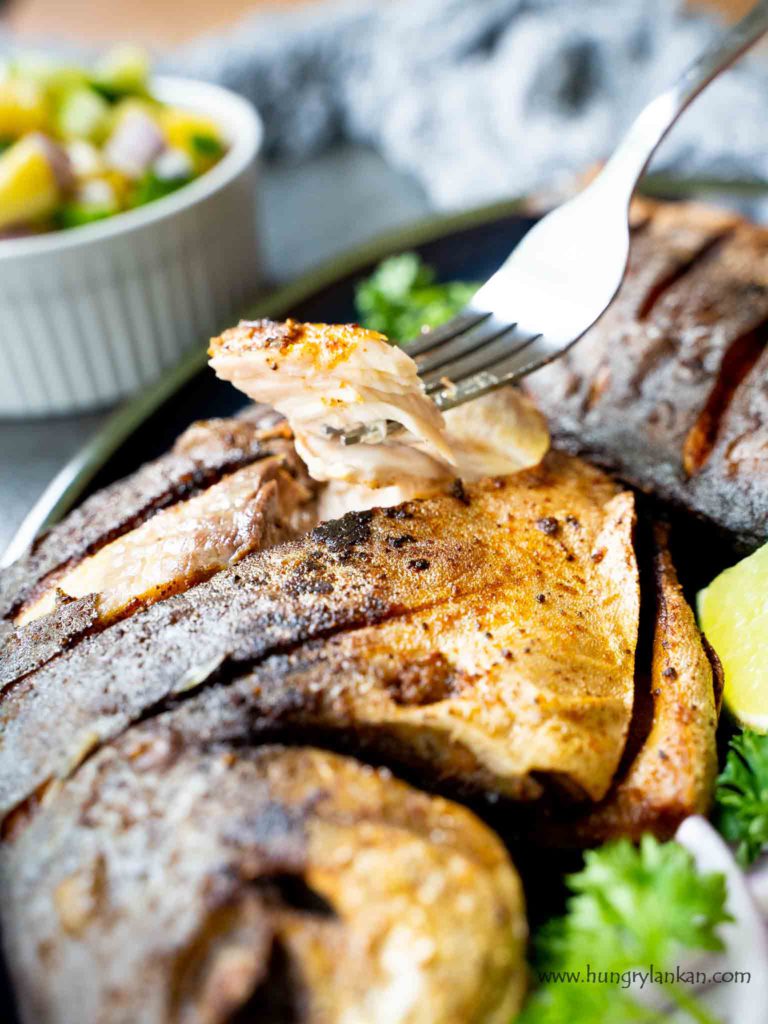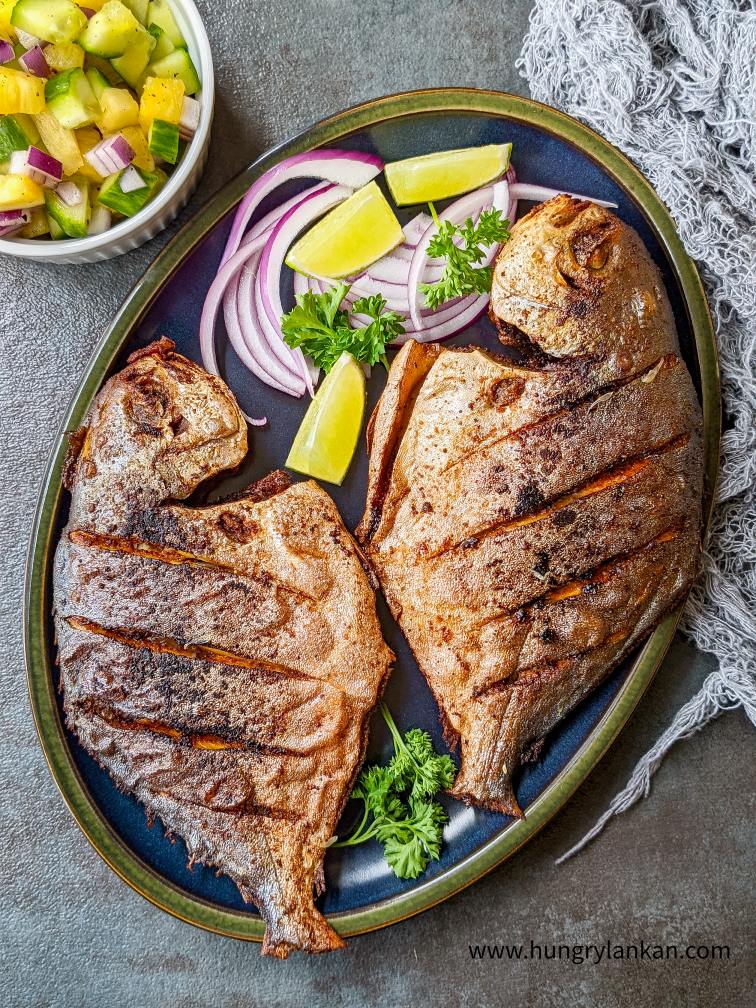 Spicy Pan-Fried Pompano
Description
Easy Spicy Pan-fried Pompano fish recipe to everyone out there who'd like to have a simple yet delicious dinner. Great for weeknights.
Instructions
Put some vertical slits to the fish with a very sharp knife. 

In a large bowl, mix the following ingredients. Chili powder, Fresh cracked black pepper, turmeric powder, garlic powder, Salt and Lime. Mix well and taste it. If you feel like it needs more of the spices, salt or lime adjust them. The marinade should have a good salty and lime flavor.

Put the fish into the spice bowl and rub the spices well to the fish, including the gutted area and inside the slits. But be gentle and don't damage the flesh. Wear gloves.

Heat a large nonstick pan. It should be big enough to lay the fish you have. Add frying oil until about 1.5 cm high on the pan. and let it heat. When the oil is hot enough (put one end of a wooden chopstick or spoon handle and it should bubble up), carefully place the fish inside the pan. Do not overcrowd the pan.

Fry for 5 - 6 minutes. Carefully lift the fish to see if it has cooked enough. If not leave for about another minute or two and turn up the heat a little bit.

Carefully flip the fish using a spatula and then fry the other side for another 5 -6 minutes or until golden.

Take the fish out and place it on a paper towel to drain oil. Squeeze some lime juice on the top immediately. Sprinkle some salt if needed. Serve hot with a side salad and a tangy sauce or dressing. (tamarind sauce, Lemon Mayo etc.)
Notes
Add Kashmiri red chili powder for intense bright red color. You'd probably think this is too much chili powder but the majority of the chili powder dissolves in oil.