This classic village style Sri Lankan green bean curry is definitely one of my favorite ways of eating green beans. Even though the green beans lose the bright green color, they become so flavorful and soft with longer cooking. A dish that reminds me of delicious village style food we get to eat when we visit my grandma who still lives in a beautiful village in Sri Lanka.
The best thing I love about this dish is, you don't have to have the freshest, most tender green beans for this recipe. Whenever I find I have green beans that have dried and discolored in the fridge, this Sri Lankan green beans curry recipe is my go-to recipe. I also love that I don't have to worry about retaining the green color of the green beans. The thing with green bean curry with coconut milk and green beans stir-fry dishes are I always have to keep an eye on the dish. So I don't overcook it and lose the green color. However, with this recipe, slow longer cooking is exactly what you have to do. You don't have to keep an eye on the pot all the time. No worries about overcooking.
To get the original texture, I highly recommend you use a clay pot for this. If you don't have a clay pot the next best would be a cast iron dutch oven or a ceramic dutch oven. The reason is clay pots have the ability to retain the heat for a long time. Just as castiron pots. This helps the curry to cook slowly and thicken up the gravy, even after you turn off the flame.
This curry is quite spicy. But you can always adjust the amount of chili powder you use. Or you can totally skip it. it's totally up to you. The curry powder I'm using is Sri Lankan curry powder. Please don't any other curry powder for this recipe. Well… you can… but you wouldn't get the same taste. Curry powders are extremely different from one another. Please refer to my Sri Lankan vegan green bean curry with coconut milk recipe for the unroasted curry powder recipe. For coconut milk, I use canned coconut cream but you can use freshly squeezed thick coconut milk or powdered coconut milk.
Here are the products I'm using (affiliated links)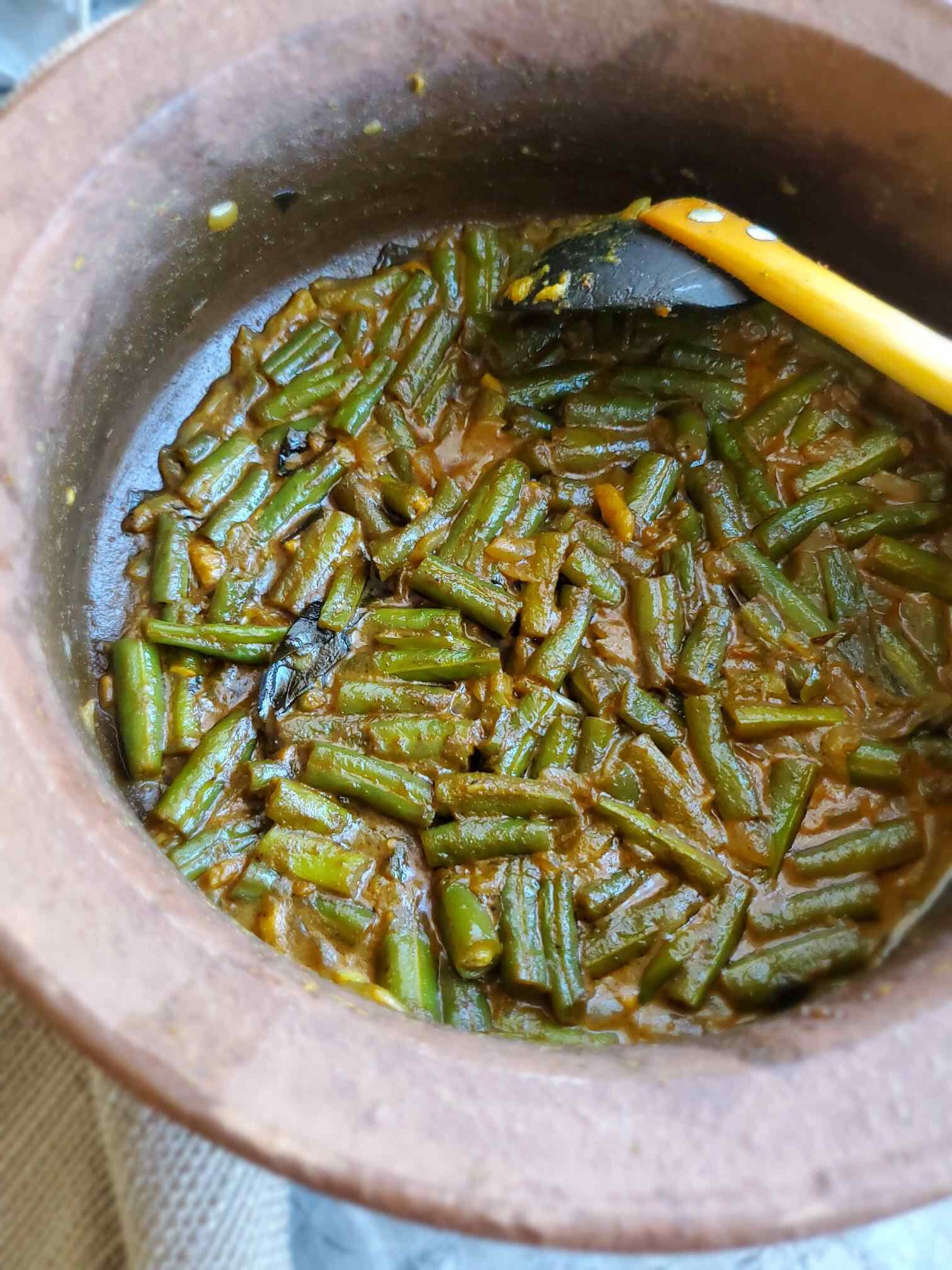 Sri Lankan Green Bean Curry
Description
Authentic, village-style, Vegan Sri Lankan green bean curry recipe. The perfect recipe for your dried, discolored, old-looking green beans.
Instructions
Heat the clay pot or dutch oven (any pot that can retain the heat for longer would work) and add coconut oil. When the oil is hot, add curry leaves. Mix for few seconds and roughly chopped garlic. Fry until garlic gets lightly brown.

Add chopped onion and chopped green chilies. Mix and fry for a few seconds until onions get a little soft.

Then add green beans. Curry powder, chili powder, turmeric powder, salt and mix very well. Stir until you get a nice aroma from the spices.

Now add thin coconut milk. Mix really well. Cover and cook on medium heat until beans are tender. Open the lid and mix in between cooking to avoid it from burning.

When almost all the thin coconut milk is evaporated, and beans are soft and tender, add a cup of thick coconut milk. and mix very well.

Cook uncovered until oil separates and the gravy gets thick. Mix a few times in between to encourage even cooking. And cook on medium-low heat so the coconut milk won't curdle.

Turn off the heat when you get the desired thickness. The gravy will get even thicker when the curry cools down.
bean curry, bonchi curry, beans, bonchi, beans curry, curry, green bean, green beans, green bean curry, vegan