Focaccias are one of the easiest bread to make and it has the most wonderful crispy crust that almost tastes like deep-fried. If you haven't had focaccia yet, this is something you have to make. The thing I love about making this sourdough focaccia with rosemary and sea salt is, I don't have to knead the dough or do so many stretch and folds and it doesn't need any shaping at all. Despite how easy that is to make, it comes out perfectly crispy outside and fluffy and airy inside all the time. 
I especially love sourdough focaccia with rosemary and sea salt, because of the open crumb texture (and the flavor of course). But you can easily make focaccia with store-bought yeast. I'll add the recipe for that on another day. Or If you're starting out with sourdough this is the perfect recipe for a beginner. It hardly requires sourdough bread baking skills. 
The dough amount in this recipe is for a 9 * 13 inch pan for thick focaccia or a 18 * 13 inch cookie sheet for thin focaccia. I used an 8 * 8 pan (Affiliate Link: https://amzn.to/3coP4Fp ) .and took out only 750g out of the dough and used the rest of it to make a small focaccia bread in a 6-inch baking dish with some Sri Lankan flavors. That's why you see a square pan in photos. You can definitely divide the dough in a few baking pans and make a few focaccias with different flavors.
Focaccia with the Sri Lankan flavors:
For the small focaccia that I made in the small round pan, I used coconut oil instead of olive oil. And I fried some shallots, garlic and curry leaves and mustard seeds to infuse coconut oil with flavors. Then I used that coconut oil to drizzle the focaccia with. And I used those shallots, garlic, curry leaves and mustard seeds and some chilies as the topping. Actually this turned out soooo good, I love this better than any of the focaccias I've made so far. So if you want to go out of the box and try some new flavors, try this one too
If you're looking for a sourdough discard bread recipe, visit my sourdough discard bread recipe too.
Pin this to your favorite Pinterest board
If anybody's interested this is the 8 * 8 pan I use the pan below
Some items that are mentioned in the recipe (Affiliate Links)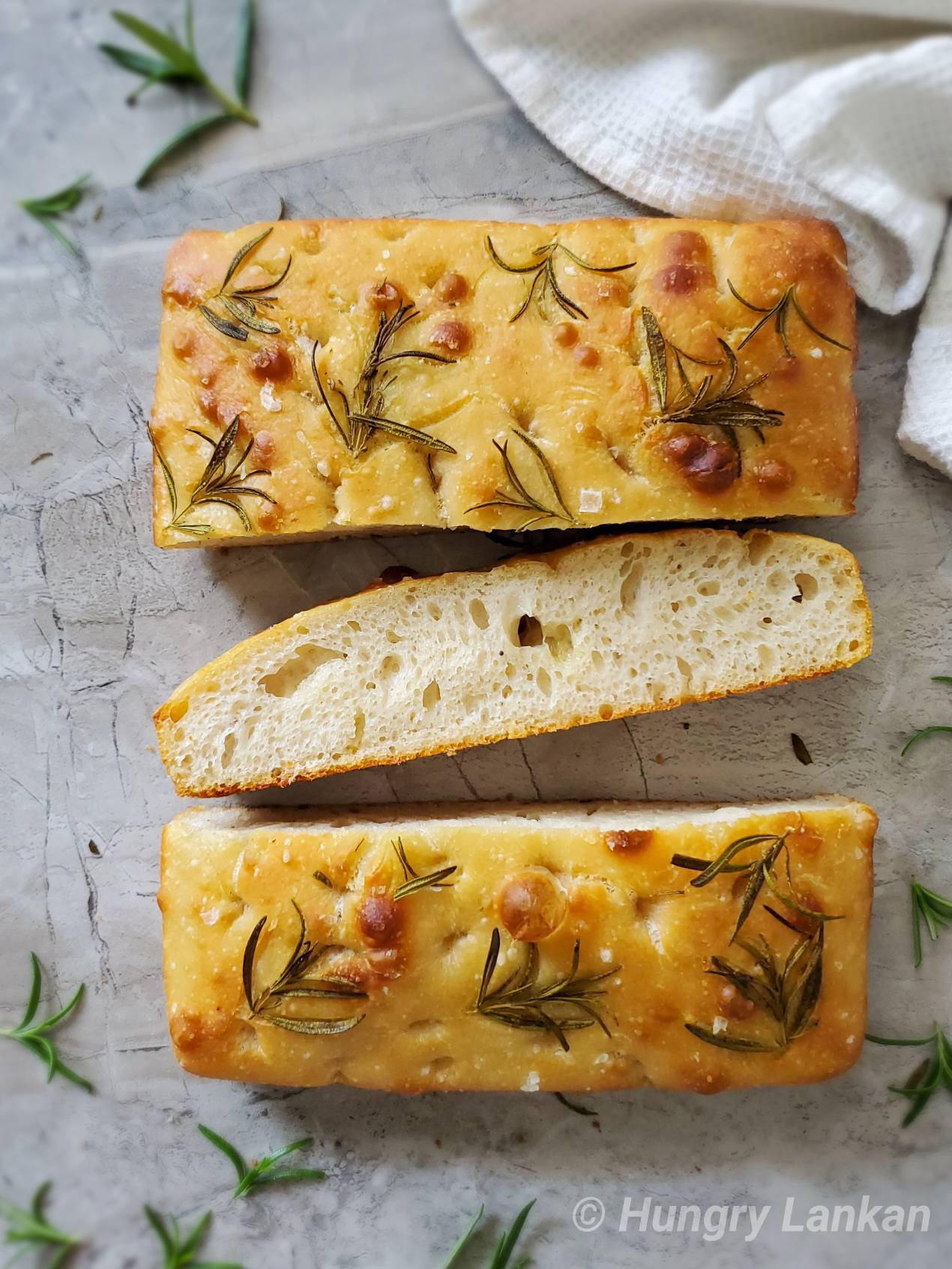 Sourdough Focaccia with rosemary and sea salt
Description
A super crispy and delicious sourdough focaccia recipe that hardly requires any sourdough bread making skills. Perfect for beginners.
Instructions
Feed your starter 6 to 8 hours before you mix the dough. Also do the floating test to see if it's ready.

Mix water and sourdough starter in a bowl. Then add salt and flour. Mix everything well together using your hands until the salt dissolves. Cover and autolyze for 30min - 45mins.

Do one set of stretch and folds. Cover and put the dough into the fridge for 12 - 16 hours for bulk fermentation

When you take the dough out there should be some bubbles visible. Wet your hand and do a quick fold to make it into a square (like when you make an envelope). You don't have to be perfect.

Generously add olive oil to a 9 * 13 baking pan. Oil your hands and transfer the dough to the pan, seam side down. (I used a 8 * 8 pan and took out only 750g out of the dough and used the rest of it to make a small focaccia bread in a 6 inch baking dish with different flavors and toppings. That's why you see a square pan in photos)

Stretch a little bit from the corners to cover the whole pan. Again, no need to be perfect. Now cover and let it proof for 4 to 6 hours until you see a lot of bubbles on the top.

Preheat the oven to 450F. Now drizzle more olive oil on the top. Oil your fingers. Gently poke holes in the dough with your fingers. Place some rosemary and gently press it to the dough. Sprinkle some flaky sea salt. (You can top with anything you like)

Bake in a 425F oven for 25mins or until golden. Place it on a cooling rack for about 30mins before you cut it open.
Focaccia with Sri Lankan flavors
Use coconut oil instead of olive oil. Lightly fry some shallots, garlic, mustard seeds, chilies and curry leaves in coconut oil. Use everything to top the focaccia.

Bake it 425 F for 20 to 25 mins until it's golden.

Wait for it to cool down before you cut it open
bread, focaccia, hearbs, sourdough, sourdough focaccia, bread, sourdough bread, seasalt, rosemary