I love to make this quick tuna sandwich spread for my weekday lunches. I always have the ingredients I need for this recipe in my pantry. And it comes together in no time. Since it's a thick paste it stays in my sandwich without falling out. Which makes this the best tuna spread for picnic lunches.
If you look at the ingredients you'd see that it's very similar to tuna salad. Well, it is. And the method of making is very similar to a salad too. The only difference is, that I mix this the hell out of it. So they don't look like a salad but become a paste. I use less mayonnaise so it stays pasty. And butter helps to make it moist without adding too much moisture to the spread. Which acts as a barrier and helps the bread to stay nice and spongy for longer without becoming soggy.
I love this tuna sandwich spread because,
it's super delicious.
Perfect to make to-go sandwiches. I can eat them in the car and have no worries about messes.
I can make it about 4 days ahead and store it in a container and keep it in the fridge.
Perfect for kids' lunches. Sandwiches stay fresh without getting soggy until lunchtime.
So quick and easy to make and very budget-friendly and you don't have to have any special ingredients. Just some pantry staples.
Can I use my food processor?
Yes, you absolutely can. But you can't just put everything into the food processor and pulse. It needs a few small adjustments. Onions, sometimes, start to taste a little bitter when you process them in the food processor. And because they break into very small pieces, they release a lot of water and can make the spread a little too runny.
So here's what you can do to avoid that and still make this spread in the food processor. Add all the ingredients except onions and jalapenos (or any fresh ingredient you might use). Run the food processor until they become pasty. Now add roughly chopped fresh ingredients (onions, jalapenos) and pulse a few times until they break into small pieces. Don't overdo it cause as I said, onions can start to taste bitter when they're broken down. They probably won't mix well with the tuna mixture that's already in the food processor (mine doesn't). So you have to manually mix everything using a spatula or a spoon.
Which tuna should I use:
I use the safe catch Yellowfin Ahi Tuna that I get from Costco. They are mercury tested. Come as one big chunk so less liquid. Taste good too. Which makes it perfect for the recipe. But any tuna of your choice would be fine. Make sure they come as big chunks and not with a lot of liquid. I usually buy tuna in water but tuna in oil works okay too but it the taste and the texture would be a little different.
Servings Ideas:
The amount I have given is enough to make about 12 – 15 half (triangular) sandwiches depending on how much you put in each sandwich. I love to serve it with some chips or fries or a side of fruits. Great as a lunch on the go, for your picnic table, or for kids' lunch boxes.
I hope you like this quick tuna sandwich spread recipe. As I told you, this cannot get any easier, you guys. Try it out and let me know your thoughts. Thank you.
Looking for good sandwich bread? Check out my fool-proof sandwich bread recipe too.
Amazon Affiliate links for the products I mention: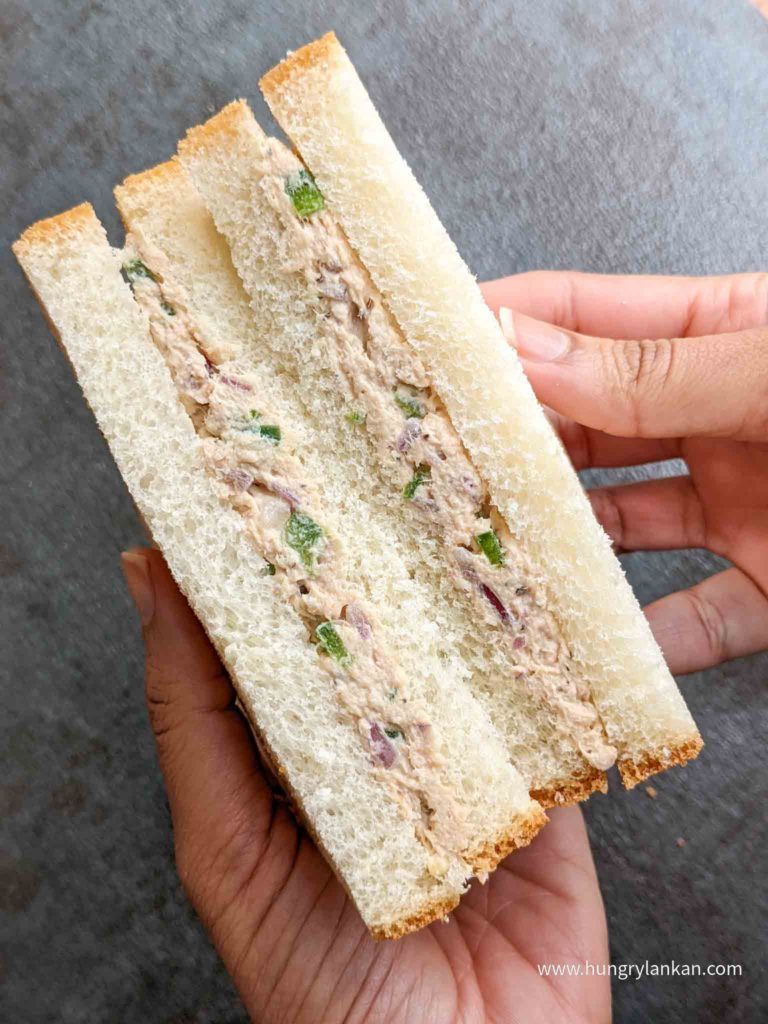 Quick Tuna Sandwich spread
Description
I love to make this quick tuna sandwich spread for my weekday lunches. A few pantry ingredients and a few minutes are all you need.
Instructions
Drain and discard all the liquid from tuna cans. Put tuna into a bowl.

Add finely chopped red onion, chopped green chilies, black pepper and salt to the bowl as well.

With gloves on, break tuna very finely and mix very well with the rest of the ingredients.

Add Mayonaise, butter, dijon mustard, and lime juice. Mix really well until they become a paste.

Taste and adjust salt, black pepper, and lime to your taste.

You can keep the spread in the fridge and apply it to your toast or bread whenever you need it.
Notes
To quickly soften butter, put the butter stick into a microwave-safe plate and microwave for about 15 seconds. 
Tuna spread, Sandwich spread, Tuna, Sandwiches, sandwich, Tuna sandwiches, Tuna sandwich spread, Quick lunch, Lunch sandwich