An easy cheddar and bacon dip that can whip up in five minutes. No chopping or cooking needed. All you have to do is mix everything together. Easy as that. I like it warm so I air-fried it until it's just warm and the cheese is melted. But you can totally skip this step and serve it as it is.
This cheddar and bacon dip is perfect for your next office potluck or party. It's only five minutes of work. You can mix everything up beforehand and put it in the fridge, and bake it whenever your guests are in. Or serve it cold as a cold di. I only used one block of cream cheese. And this amount would be enough for about 5 people, I would say. So double or triple the batch if you want to make this for a crowd. And definitely adjust the air frying/baking time if you choose to air fry/bake. 
You can put the cream out on the counter until it comes to room temperature. But I don't usually remember those kinds of stuff. So microwave the cream cheese block in short bursts until it becomes soft and manageable. This would only take about 15 – 20 seconds total. For bacon, you can use store-bought bacon bits, which makes the process a little quicker. Or you can easily fry some bacon at home and break them into pieces. Wouldn't take more than 5 mins. 
I don't like to use the oven so much in the summer because it heats up my tiny apartment so quickly. So I use the air fryer instead. You can use either air fryer, or an oven, or if you have a small toaster oven that would work too. The air fryer time may vary depending on the air fryer you use. I used a Farberware air fryer before and now I use a ninja air fryer. And I see a significant difference in the time they take to cook the same food even when you enter the same temp on settings. So adjust accordingly. 
Air Fryer and the Baking Dish I use, if any of you're interested. It's ceramic coated and I absolutely love it.  (Affiliated links)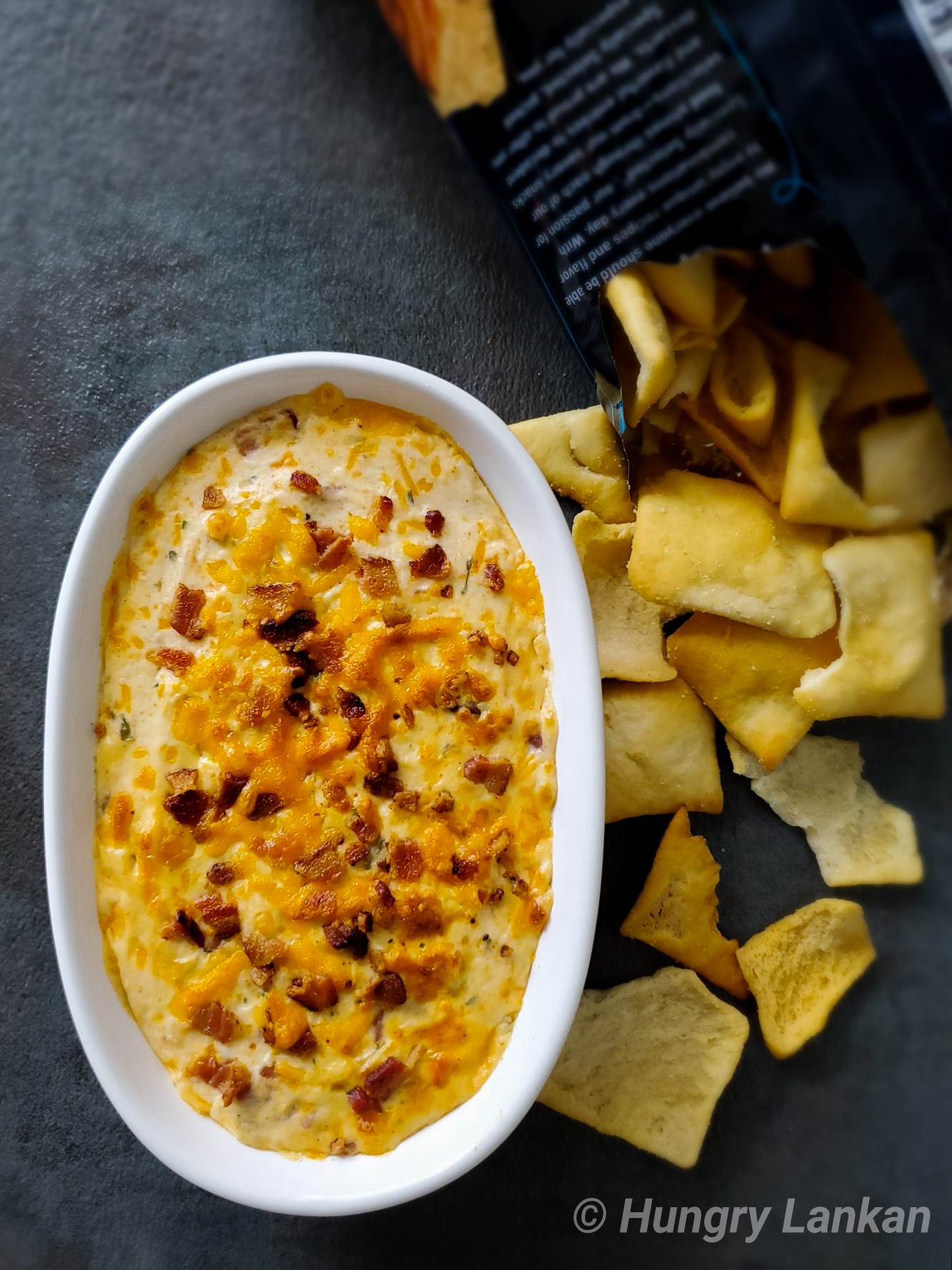 Quick and Easy Cheddar and Bacon Dip
Description
An easy dip that can whip up in five minutes. No chopping or cooking needed. All you have to do is mix some store-bought ingredients together. Easy as that.
Instructions
Microwave cream cheese in a bow for 15 - 20 seconds in short bursts, mixing in between. Add everything else into the bowl and mix thoroughly. Save some cheddar and bacon to put on the top.

Transfer the mix to a baking dish. Sprinkle with bacon and more cheddar cheese on the top. You can serve this as a cold dish with some crackers, veggies, or anything you like.

(Optional step) Air-fry for 10 mins in 325 F. Or bake uncovered 350F for 15 mins. Just to warm it through.
bacon, bacon dip, cheese, cheddar, cheese dip, pita, pita chips, bacon dip, bacon and cheese, bacon and cheddar