"Pani Walalu/ Undu Walalu" is a Sri Lankan traditional new year sweet that made out of fermented split black gram paste. You only need a few ingredients for this recipe but you have to plan ahead of time since you have to soak the beans and then ferment the grounded bean paste for quite a long time.
Split black gram is also known as urad dal or Undu in south Asian countries. It's a very popular ingredient in South India and Sri Lanka that is also used to make dishes such as Dosa, Medu vada, and Idli and so many more. So even if you're not living in South Asia you'd still be able to find this ingredient easily at your local Indian grocery store.
I have a few key points that need to address before I go to the recipe. Please go through the recipe and the notes below a few times before you start making these.
You have to soak beans overnight at least 8 hours. You're going to grind the beans without any liquid added so it's important that they are soft and plumped from soaking.

The grounded paste has to ferment for at least 12 hours until you see some bubbles have appeared. If you live in a cold area ferment it for more than 12 hours. If you're in Sri Lanka or any other hot and humid area 10 hours would be probably enough. Good fermentation of the batter is important to make the coils hollow in the middle and for the slightly tangy taste that we all love.

You have to keep the syrup warm all throughout the Pani Walalu frying process. That's what makes the hot fried Pani Walalu absorb the syrup without losing the crispiness.

Oil shouldn't be too hot. Keep it on medium-low heat. So the piping of the batter would be easier. You'd have more time to pipe the batter into coils before it starts to bubble up and popup onto the surface of the oil.

If you add too much coconut cream by any mistake, add a little bit of rice flour to get the right consistency. But this may harden your Pani Walalu's a little bit. So be careful when you add coconut cream/milk
Some items that are mentioned in the recipe (Affiliate Links)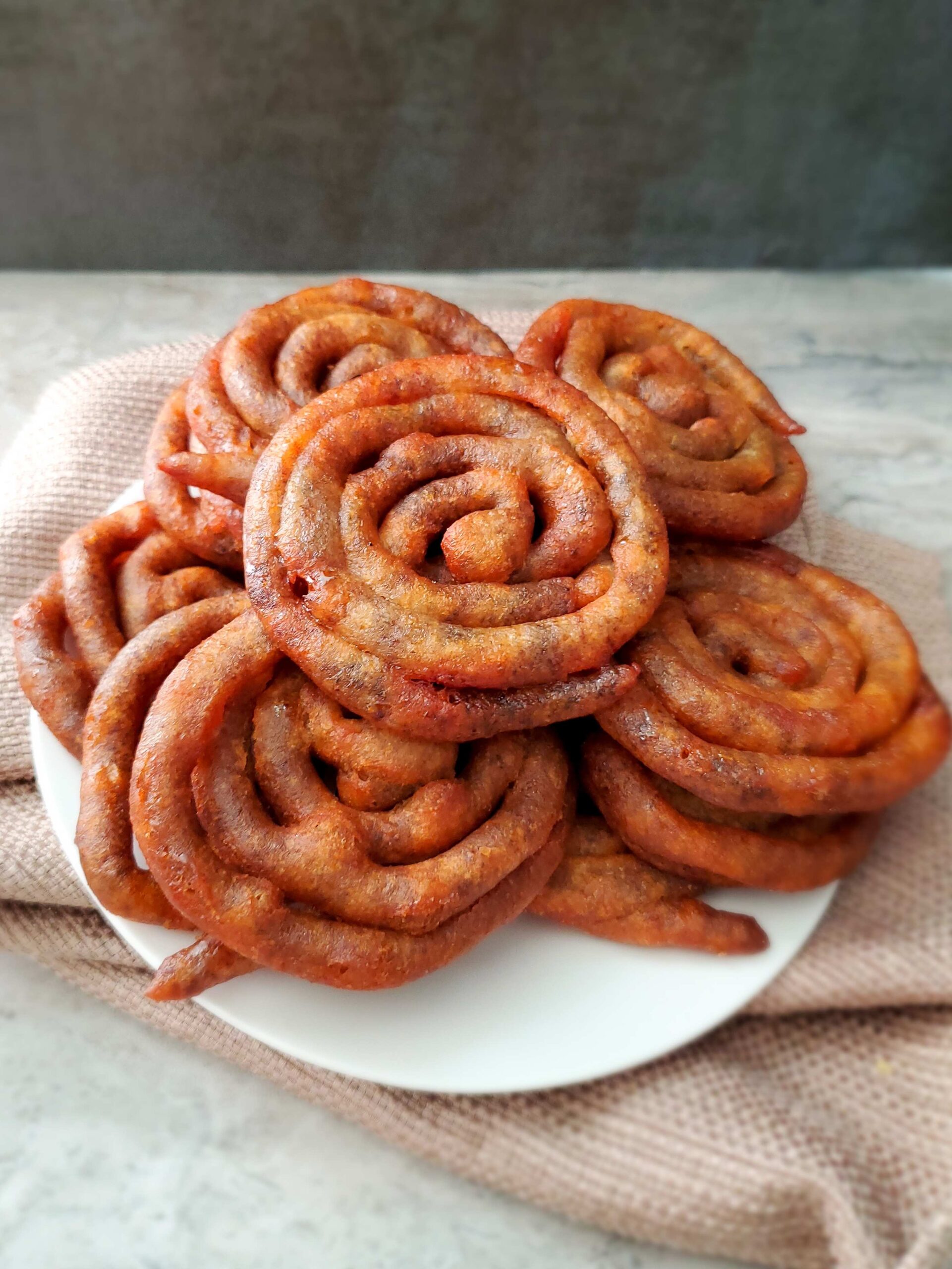 Pani Walalu
Description
These crunchy deep-fried goodies are filled with sweet syrup that is perfect to satisfy your sweet tooth.
For the Batter
For the Sugar syrup
Other
Instructions
Soak Urad dal/Undu/black lentils overnight.

Drain black lentils well and grind them into a smooth paste. Do not add any water.
Mix the ground urad dal with rice four, and all-purpose flour and let it ferment for 12 hours or so until you see it has tiny bubbles and risen a little bit.

After 12 hours, add salt to the mixture and coconut cream one tablespoon at a time and make it into a pipable paste. It's important not to add too much coconut cream since it would be hard for you to get the coil shape when you pipe the batter.

Make a sugar syrup using brown sugar and water and keep it on the stove on very low heat.

Heat enough oil to deep fry in a frying pan. (a flat bottom pan would be ideal). Put a bit of batter to the oil to see if it has heated enough. It should sink to the bottom first, stay for a few seconds and pop on to the surface of the oil. If it popup immediately, the oil is too hot. Let it cool before you pipe the batter again.

When the oil is heated enough pipe the batter into coils. Fry them until golden brown. When it's golden brown immediately transfer to the warm syrup. Do not crowd the pan and soak one Pani Walalu at a time in the sugar syrup.

Leave the Pani Walalu in syrup for a few seconds until it absorbs the syrup and transfer into a clean plate.
pani walalu, pani valalu, sri lankan, aurudu, new year, sweet, peni valalu, peni walalu, undu walalu