These yummy soft egg buns are one of my childhood favorites. I still remember buying egg buns from the school cafeteria for breakfast along with a chocolate milk packet and that was my favorite breakfast combo when I was around 12/13 years old. Now I have a different favorite food but I still get craves sometimes for these delicious goodies. 
I know it's easier to buy some hot dog buns from the grocery store but these buns are firmer and don't get soggy like store-bought buns when you put your condiments in. Plus it is so much fun to make these at home. 
You can use this same dough recipe to make so many other kinds of bakery buns such as sausage buns, burger buns, fish buns. 
There are a few points I need to mention before I go to the egg buns recipe. Please read this through. 
** I do measure all the liquids in grams since it's more precise. But you can use ml or convert all these measurements to cups and spoons. But I highly recommend using an electric scale for this recipe. 
** If you're using active dry yeast make sure to mix it with your warm milk and water and a little bit of sugar to activate the yeast.
** The dough rising time will vary depending on the temperature in your house. So please pay attention to the size of the dough rather than the time (Especially on the second rise). Over prooved dough can easily lose its shape and collapse it the oven.
Pin this to your favorite Pinterest Boards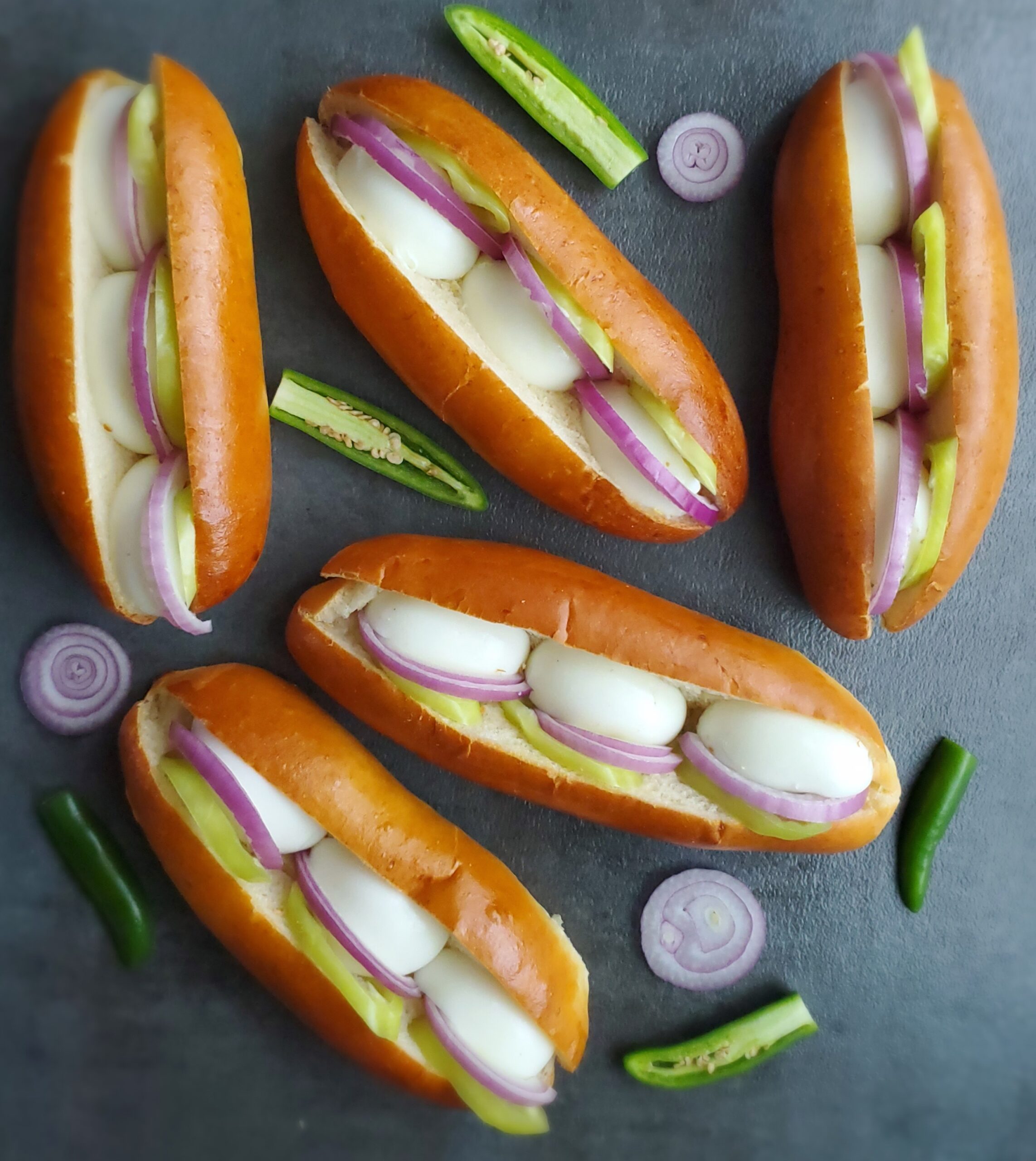 Egg Buns
Description
A must try Sri Lankan bakery bun filled with eggs onions and peppers that is so good for breakfast.
For the dough
For egg wash
To fill the buns
Instructions
Making bread
Mix everything except butter together in a mixer for 6 mins. Double the time if kneading by hand.
When everything comes together add butter and knead in the machine for another 6 mins or 12mins by hand. The dough should be soft and tacky. When it's completely kneaded, take the dough out and shape it into a ball with your hands.

Put the dough back into the mixer bowl back, cover with a plastic wrap and leave it in a warm place until it's doubled in size.

When the dough has doubled in size, punch it down and transfer to the benchtop and divide into 6 equal pieces, make them into balls, cover with a towel and let them rest for 15 mins.

After 15mins, take one ball at a time, make approx 6*4 inch rectangles and roll it into cylinders (approx 6 inches long). They might shrink back a little but that's okay.

Arrange them on a baking tray, cover with a towel, allow them to rise again for about an hour until they are almost doubled in size. Meanwhile, preheat the oven to 400F for 30mins.

Egg wash the buns, bake them for approx 12mins until they are golden. Take them out and let them rest for at least 30mins before you cut them open to fill with anything.
Assembling the egg buns
apply some Mayo or butter to the opening of the buns. Fill with boiled eggs, onions, and peppers. Sprinkle some salt on the eggs.
Notes
You can fill these buns with hot dogs, egg omelet, or egg salad, or any other filling you like.

egg buns, sri lanka, sri lankan, egg, soft buns, breakfast