Try my easy, foolproof banana bread recipe for this rich, delicious, and super moist banana bread. It's perfect for breakfast or even as a snack. Even the banana haters love this.
Ever since I posted my banana bread photos on my Instagram page, I got so many requests for the recipe. I actually shared the recipe with few people and some people responded that it came out so good while some had issues with too much moisture. Some people also had issues with the banana bread splitting on the top. I got really confused because every time I try this recipe I always get the same awesome results. And I can't recall how many times I have made this since me and my husband both love banana bread. We even have this as an evening snack. So back to the track, I wanted to find out what they do differently than I do. And I reckon it was mostly the bananas.
As you already know, there are countless amount of banana varieties around the world. In the US we only find one kind of bananas that are roughly the same flavor and same size. But if we go to Sri Lanka, for instance, you'd find so many banana varieties that have very distinct flavors and very different in sizes. So when I say use 6 bananas in the recipe, I had no clue what kind of a banana they would use. No wonder why we get different results. So before I wanted to add the recipe to the blog, I wanted to make sure to mash the bananas and see how many cups I use. I haven't got the chance to do it until recently.
But before you continue I wanted to address a few more issues here. So please take the time to read this through. I promise it's worth your time.
When you mash bananas, make sure you mash them completely. Small chunks are just fine. But when you leave big chunks in the batter, what happens is, they sink to the bottom when you bake the bread and make the bottom of the bread very soggy.
Use blackened, barely edible, very very ripened bananas. They're the sweetest and give out the best flavors and they also mash pretty well.
Let the butter to be melted on the counter so it's easier to use in the recipe. It should not be melted as it looks like oil. But it has to be very softened. You should be able to easily mix it to the batter.
When you put the butter out to make it soft, make sure to put your eggs out too. They need to be at room temp too. Otherwise, they will curdle the melted butter back again. Which would make it harder to whisk the ingredients together.
Brown sugar is a must. That's what gives you that darker color and moister texture. Brown sugar and white sugar can be used interchangeably. But keep in mind the moisture level of both sugars are different and it definitely affects the texture and color of your bread.
If you're having issues with the split top that is mostly because your oven temp is too high. The high temp of the oven would make the surface/skin of the bread bake quicker than the middle. So as the middle of the bread cooks through, there isn't any way for the steam to escape. And that leads to pressure build-up with all the trapped steam, which leads to split the top of the skin. So when you bake the bread, definitely check the oven temp. Some ovens heat up a lot more than it indicates. Use an oven thermometer if you can get one to monitor the oven temperature.
I use unsalted butter so I add a pinch of salt to the batter. If you use salted butter, you can skip adding salt.
If you're not going to bake the bread right away, then add the baking soda at the end rather than with all-purpose flour.
The recipe is for the basic banana bread recipe. Once you master this, you can use whatever nuts, fruit pieces, cholate chips, or anything you like. I really hope you give this easy moist banana bread recipe a try. It's easy to follow and it's hard to get it wrong. There were many times that I've forgotten to add baking soda and vanilla extract and I had to add them at the end. But it has never failed me. Whatever I do this recipe always turns out great. Try and let me know your thoughts too..
Pin this to your favorite Pinterest board
Some items that are mentioned in the recipe (Affiliate Links):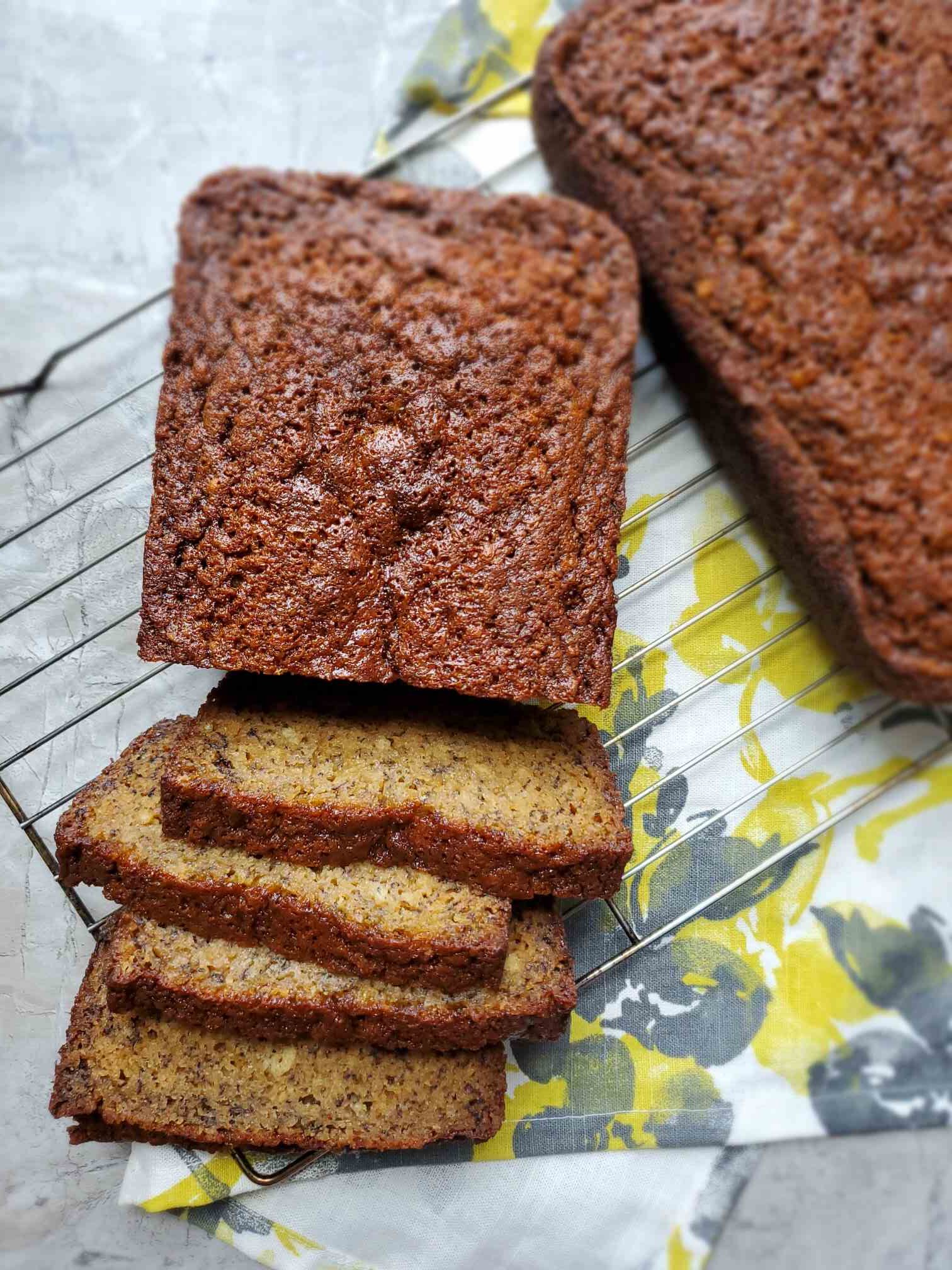 Easy Moist Banana Bread Recipe
Description
Try my easy, foolproof banana bread recipe for this rich, delicious, and super moist banana bread. It's perfect for breakfast or even as a snack.
Instructions
Preheat the oven to 350F or 180C.

Take about a tsp of butter from your melted butter and apply to the pans so your banana bread won't stick to the pan.

Mash the bananas well using a wooden spoon or your whisk if it's sturdy enough. It's okay to leave small chunks as they are going to mash once you add sugar and whisk in the next step.

Add brown sugar and white sugar and two pinches of salt and mix really well.

Add the softened butter and again whisk nicely. It's okay to have small chunks of butter left.

Now add your eggs and vanilla extract or essence to the mixture and whisk again to completely mix the eggs with the batter. (If you use vanilla extract use 3 tsp and if you use vanilla essence use 1 tsp.)

Add the flour and baking soda to the batter and whisk really well until you get a cohesive batter. it's okay to have some small banana chunks and some butter bits but your flour has to be mixed completely without any lumps.

Divide the batter equally between two loaf pans. Bake in a properly preheated oven (350F/180c) for 50min to 1 hour. Insert a toothpick into the middle to check the doneness. If the toothpick comes out clean, then the bread is baked. Otherwise, bake it for a few minutes more.
Banana bread, Easy banana bread, Sweet, Bananas, Banana cake, Brown sugar banana bread