Peri Peri Chicken (or Piri Piri chicken) made easy and simple and it's one of the best recipes for a good weeknight meal.
I love making food from scratch. I absolutely do. Peri Peri sauce made from scratch is so so good and has so much flavor. But on most weeknights, when I'm low on energy, I'd like to go with something simple, quick, and easy with less prepping and less cleaning. I'm Asian and for me spice is comfort. This Peri Peri chicken recipe ticks all my needs for a comforting quick and easy weeknight dinner. Now, this is not the way you make Nando's copycat peri-peri chicken but my own version of it. We love this chicken dish so much and I hope you enjoy it too.
Peri-Peri Sauce
If you make the peri peri sauce from scratch you have to have many ingredients including African bird eye chilies. The process is not complicated tbh but I take a shortcut here and use Nando's peri peri sauce in my marinade. I like to add a few more additives to make it more flavorful. Even if you feel like the sauce is a little too spicy and tangy, I promise you, it balances out as you bake the chicken.
The amount of sauce/marinade i'm making here is enough for about 1 kg – 1.5kg (2lb – 3.5lb) of chicken. The legs I get from my local grocery store are humungous (500g each). So if you can get smaller leg quarters, you can marinate 3 leg quarters with this amount of sauce without any issue. Make sure you reserve the required amount of sauce to brush the chicken legs later in the process.
Can I make this with other cuts of chicken?
Yes!! in fact, if you make this with a whole chicken it would be a wonderful dish for any festive table. Just keep in mind the cooking time is different for each cut and size. And I highly recommend spatchcocking your whole chicken. Also, put a heavy flat weight (like a cast iron skillet) on top of the chicken when you sear it.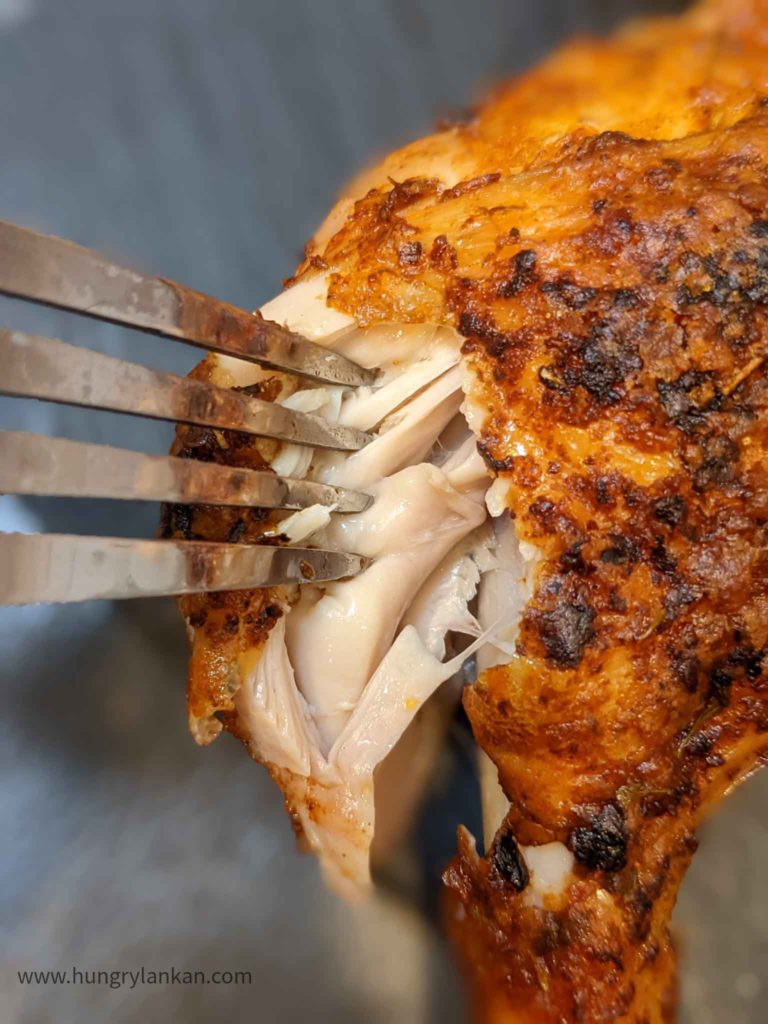 How long to Marinate?
The best is to marinate for 24 hours – 48 hours. But if you don't have that much time, marinate for 1 -2 hours in the fridge and that should be enough.
What to serve it with?
I love Nando's peri-peri chicken (I mean who doesn't?). So I usually serve this chicken with store-bought Nando's peri-peri sauce and Perinaise. Any type of spicy Mayo or garlic mayo works well too. A green salad or light coleslaw are also great side options. Or go with seasoned fries for a nice comfy meal.
Products/ingredients I use (amazon affiliate links)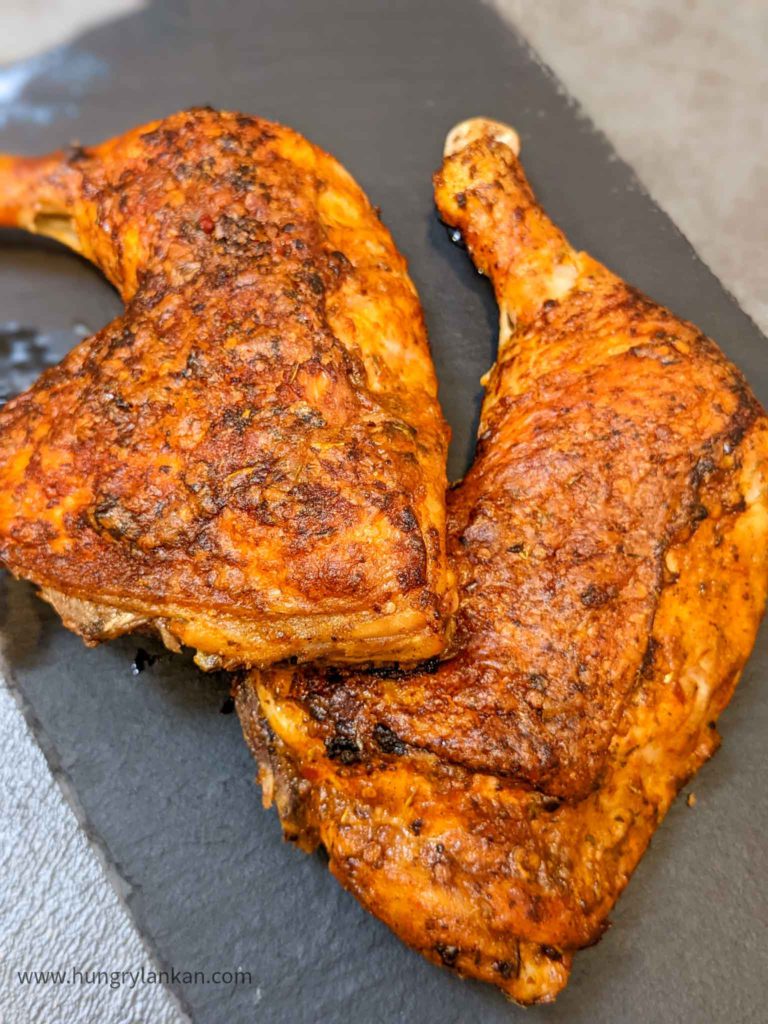 Easy and Simple Peri-Peri Chicken
Description
Easy peri peri chicken recipe for those who are looking for an easy weeknight meal with very less prepping.
Instructions
Mix peri peri sauce, garlic powder, white pepper, thyme, oregano, 1 tbsp of olive oil, salt in a large mixing bowl.

take out 2 tbsp of the marinade and reserve itfor later. 

Add chicken leg quarters and rub the marinade all over the chicken pieces. Make sure to go under the skin as well. Cover the bowl and let it marinate for an hour minimum. (best to marinate for 24 - 48 hours in the fridge)

Preheat the oven to 400F.

Heat a cast iron skillet or a oven-proof skillet on the stove. Add 1 tbsp of olive oil. When oil is hot, lay the chicken leg quarters on the pan, skin side down. 

Sear it for about 10 - 12 minutes on medium heat until chicken skin is nice and brown. Turn the chicken pieces so the skin side is up. 

Bake in the oven at 400F for 20 minutes. Take the chicken out and braise chicken pieces with all the oil and fat and juices in the pan.

Apply the reserved marinade on the skin very well. Place back in the oven and bake for another 8 - 10 minutes.

Take the chicken out. Insert a meat thermometer into the thickest part of the chicken. If it reads 165F or higher it is cooked. Serve with your favorite sides and spicy mayonnaise. 
Notes
The leg quarters I use are humungous. You can marinate 3 regular size leg quarters with the same amount for 3 servings.
Spicy chicken, Baked chicken, Piri Piri chicken, Peri Peri chicken, Nando's chicken recipe, Cast iron chicken, Cast iron cooking