52 Views
Yields:

3 Servings
Difficulty:

Easy
Prep Time:

15 Mins
Cook Time:

30 Mins
Total Time:

45 Mins
These delicious Jumbo shells are filled with cheese, chicken, and herbs and baked with marinara and more cheese on the top. Cheesy heaven for cheese lovers.
I love making these pasta shells for weeknights. Here's why. One, This dish only needs some store-bought ingredients so I don't have to cut so many veggies and stuff and clean so many dishes at the end of the day. Two, if I have a really busy week, I can make ahead of time and put it in the fridge and bake whenever I want. Three, I can easily double or triple the recipe and make another tray for the next day. Leftovers are so good too. Four and most of all, these pasta shells are so creamy and cheesy and that's exactly what I need to have to lift my mood up on a tired weeknight.
For these baked pasta shells, I used a leftover rotisserie chicken and Jar of storebought marinara sauce. But you can make your own marinara sauce or make shredded chicken at home. If you're a vegetarian, use spinach instead of chicken. I have made this same recipe with spinach and it tasted so good too. Ground beef, ground chicken, or turkey, or Italian sausage are other good options you can use.
This recipe should be enough for 2 large portions or 3 small portions. I hope you enjoy this easy Jumbo Pasta shells baked recipe.
Pin this to your favorite Pinterest Boards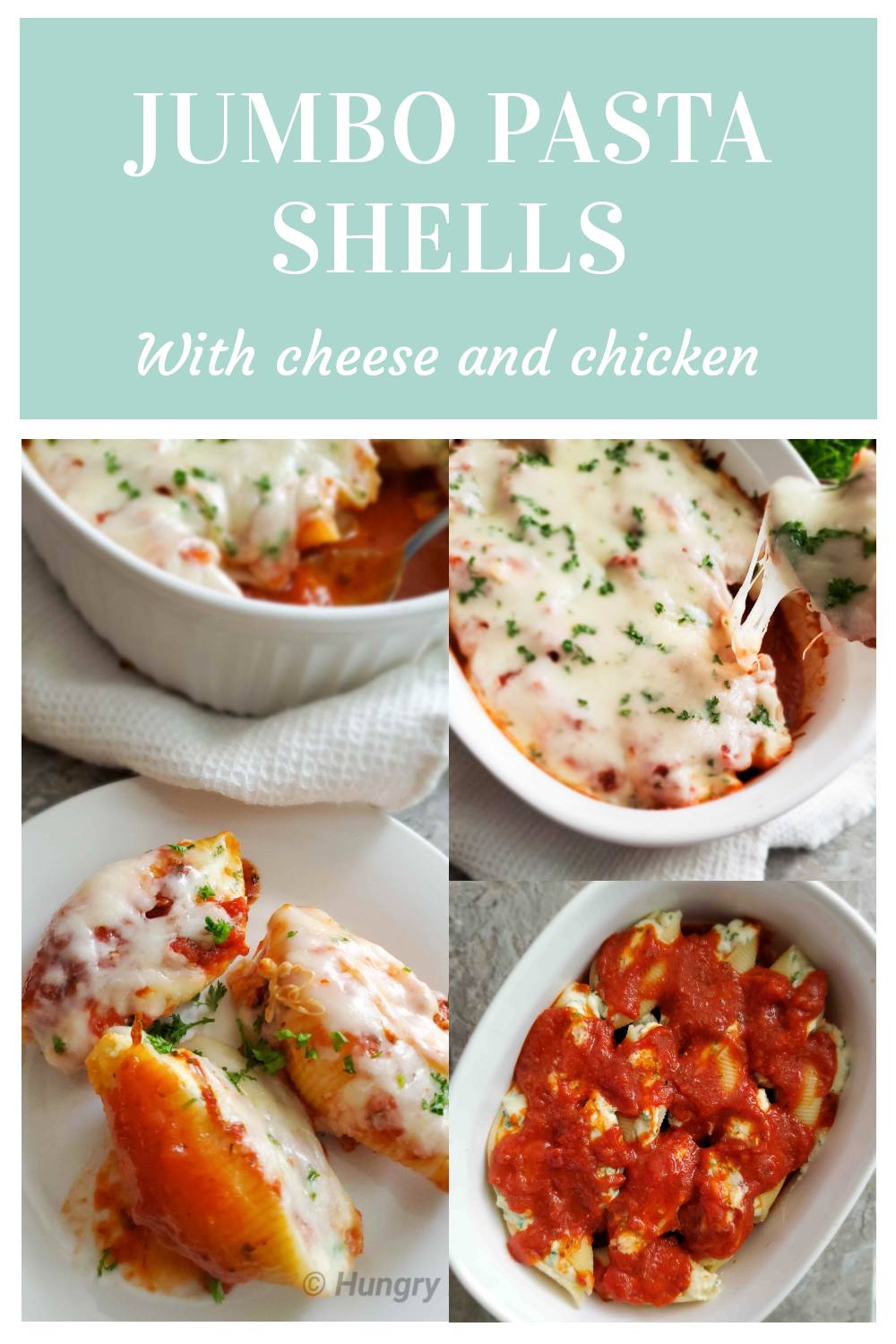 Boil pasta shells al dente according to package instructions. Make sure to add a bit of olive oil and enough salt to the water. Drain and give it a quick wash so they don't overcook and stick together.

Mix all the ingredients except the egg. Taste it and adjust salt. If you feel like adding some more parsley or parmesan or chicken, go for it. Then add the egg. Mix it and put it into a ziplock bag or piping bag. It's easier to fill the shells this way. The filing is just enough to fill 15-16 large shells.

Get a small baking dish. Mine was a 6 cup, 10.75'' x 7.25'' x 3.5'' oval baking dish. Add ½ cup of marinara sauce and spread it evenly to cover the bottom of the dish.Now fill each shell with the filling and arrange them over the marinara sauce in the dish. Filling side up.

Now top with the rest of the marinara sauce.Top with grated mozzarella and sprinkle some chopped parsley.

Cover with a foil and bake for 20 min on 350F/170C. Remove the foil and bake another 10mins.