This delicious Sri Lankan Devilled Shrimp dish is packed with flavor and has the perfect balance of umami, sweetness, and spice. It's very easy and quick to make too.
My mom makes amazing devilled chicken, fish, and seafood dishes. And she's quite famous among her friends and family for that. I love all kinds of her "devilled" dishes. But being a huge seafood fan, her devilled shrimp dish makes me extra happy. My momma's dish tastes complex with everything in balance but her recipes are the easiest you'll ever find. She makes it with a good amount of garlic and ginger, large chunks of peppers, tomatoes, and onions, a ketchup-based sauce, and store-bought chili paste.
Ingredients and substitutes
Shrimp
You probably have noticed that I use shrimp with peel-on. Almost all Sri Lankans eat with their hands. So peeling shrimp while eating is not an issue for us. And we believe that shells add more flavor to the dish. It also prevents overcooking meat very quickly. But you definitely can use peeled shrimp or prawns for this.
To clean the shrimp, I remove the shrimp head first. And then using a scissor cut the shell along the "vein" (technically it's the digestive tract) on the top. Carefully pull out the vein and discard it. If you don't like shells in your dish, go ahead and peel off the shells as well.
Sri Lankan Chili Paste
This is made with fried tiny shrimp, chili flakes, and some sauces. Very widely available in Sri Lanka but hard to find in other counties. I live in the US and I usually use Malaysian chili crisp (amazon link below) when I don't have Sri Lankan chili paste. I find these two products identical in taste and texture. XO sauce in Chinese grocery stores is also kind of similar to SL chili paste.
Peppers and Onions
In Sri Lanka, we always use Banana peppers with devilled dishes. If you can't find banana peppers, use bell peppers, Anaheim peppers, or any pepper variety that's not too strong in flavor or not too hot.
For this recipe, you have to keep your onions crunchy and not overcooked. You can either cut them into rounds (this is what my mom does) or large wedges or squares.
Ginger and Garlic
A must in this dish. Do not use store-bought ginger and garlic paste for this recipe. Always use fresh ginger and garlic. You can chop them finely or coarse ground using a mortar and pestle. Do not make them into a fine paste as it can burn quickly.
Sauces
I only use two sauces: ketchup and light soy sauce. Regular soy sauce also works for this recipe but do not use dark soy sauce. Dark soy sauce is mainly used for color, not flavor. It will stain the whole dish dark brown. A good substitute for soy sauce is Coconut Aminos.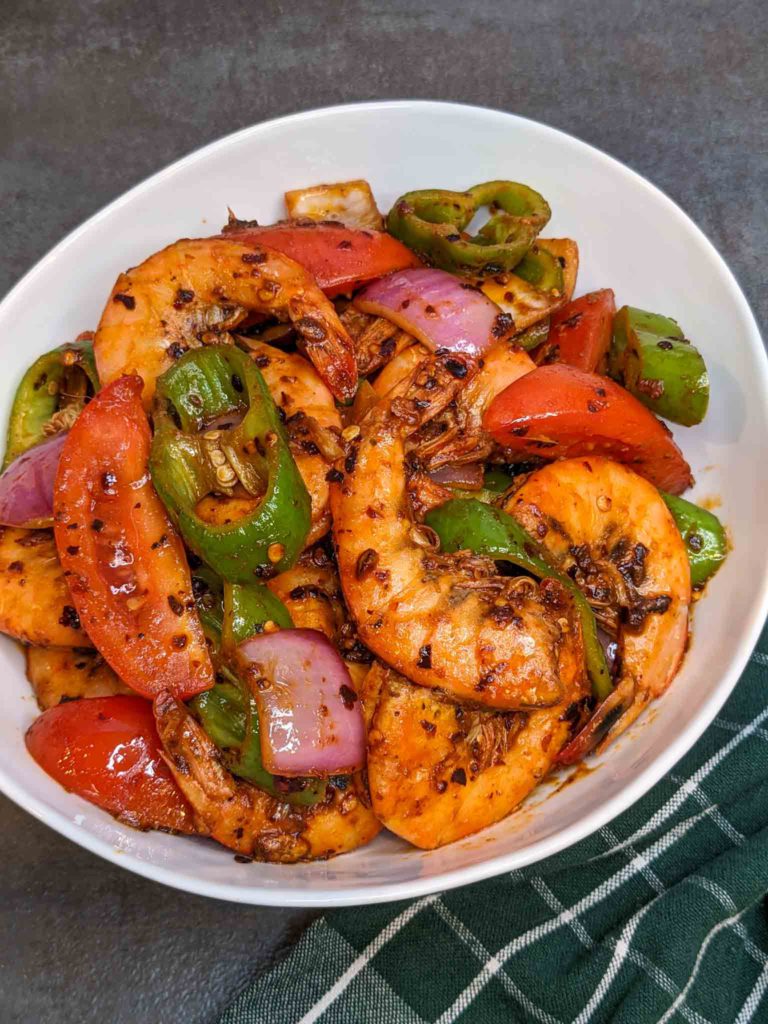 Making the sauce
The sauce plays a big part in this Sri Lankan devilled shrimp dish. It's very easy to make with very few ingredients. Soy sauce adds salty umami flavors to the dish. Ketchup makes the sauce nice and red in color and also adds tanginess and sweetness.
Do not hold back on sugar when you make the sauce. It helps to balance the tanginess of ketchup.
Corn starch helps the sauce to thicken up. And make the shrimp and vegetables look glossy. Make sure you use cold or room temperature water when you dissolve corn starch.
I like my devilled shrimp without much gravy. But if you prefer to have more gravy, increase the amount of water you use in the sauce recipe.
How to serve devilled shrimp
I like to serve my devilled shrimp with Sri Lankan Yellow Rice, Creamy potato curry or red lentil curry and a simple lettuce salad. For quick meals I just serve this with Jasmine rice. Devilled shrimp is also good with fried rice or noodles.