Sri Lankan Coconut Cake or as we call it Pol cake/පොල් කේක් is a delicious sweet treat that I always make for my Sri Lankan new year festive table along with my family favorite butter cake. It's super moist than most other cakes and gets better and better as time passes. So this is the perfect cake to make in advance. Great for tea parties and road trips. Serve it with some Ceylon tea, you got yourself a real treat!!
Sri Lankan coconut cake/ pol cake is very different from other cakes. For example, this one doesn't require a beater. Which kinda reminded me of my Banana bread recipe. We use Kithul treacle (Kithul syrup) instead of sugar. Of course, you add a lot of coconut which adds a nutty flavor and texture and makes the cake more moist. Also, add dates and cashews too. We also brush the cake with Kithul treacle at the last part of baking to get that sticky, dark, shiny top on the cake.
Add-Ons
For my Sri Lankan Coconut Cake, I only add pitted dates and cashews as add-ons. But you can add candied ginger or any kind of candied fruits of your choice. Raisins are another popular add-on that some people like to add to this coconut cake.
If you don't like any of the add-ons you can skip adding any of them. The cake would still taste delicious!!
No Kithul Treacle?
Kithul treacle is a necessary ingredient in Sri Lankan coconut cake but it's very hard to find outside of Sri Lanka. The next best ingredient to substitute for Kithul treacle would be Coconut treacle. Many Sri Lankans use Coconut treacle instead of Kithul treacle. Maple syrup or golden syrup also works but the taste would be different of course.
You can also use dark brown or brown sugar mixed with water. Use 3 parts of brown sugar to 1 part water to make the syrup. For example, to make 340g of syrup, use 255g of sugar + 85g of water.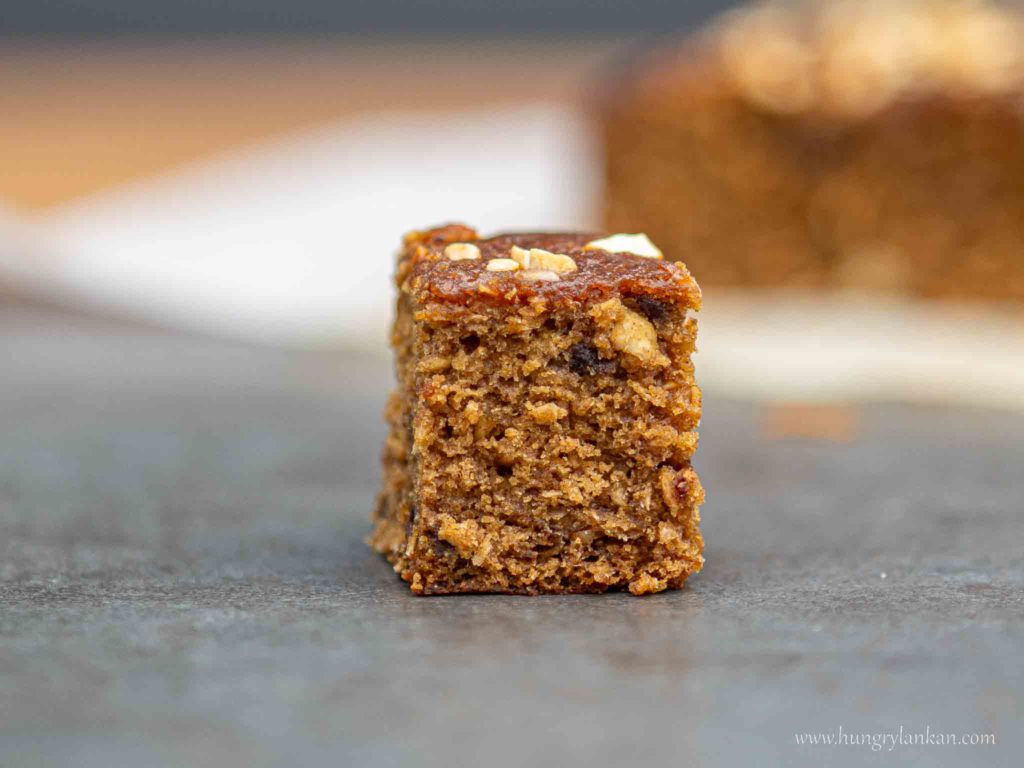 Serving Coconut Cake
You can serve the cake the same day but this cake actually tastes better the next day. When the cake is completely cooled down, cover it up with cling wrap and let it sit overnight. Serve it with coffee or tea (Ceylon tea is the best) for a wonderful treat. The cake can last up to four-five days on the counter without refrigeration. Store it in a tightly sealed container to keep it moist.