Air-fried Eggplant mixed with Lettuce, tomatoes, and onions and dressed with a yogurt-based zesty creamy dressing, this salad is definitely a keeper.
Eggplants are my favorite kind of vegetable. I love all kinds of eggplants, from Thai eggplants to Chinese eggplants to Mediterranean eggplants. They all are uniquely delicious. And good vegetables to incorporate into your healthy diet. Frying and baking eggplants can make the flesh really soft while crispy on the outside. And it also enhances the taste a lot. In other words, they're perfect for salads.
Frying Eggplants
I use my trusty air-fryer to fry eggplants as it's much easier and healthier at the same time. But I know many people don't use air-fryers so in that case you can definitely deep or shallow fry. Wait until the oil gets hot otherwise, eggplants absorb a lot of oil and can become soggy. Fry until they're golden on the outside.
I have a ninja 4qt air-fryer. Please note that the time I have given to fry the eggplants can change depending on the air fryer you're using. My recommendation is first to fry the eggplants for about 4 mins on 375F and then adjust the timer accordingly. If you have a larger air fryer. you'd need to fry it for longer as it takes a little longer for the air-fryer to heat up. In my 4qt air-fryer, it usually takes about 12 mins without preheating.
What else can I use in this salad?
I use some easy-to-find ingredients and keep it very simple. You can make this with just eggplants and tomatoes. It makes a wonderful dish to serve with rice. You can also add some croutons to add some texture. Grilled chicken cubes, fried fish cubes or balls, or fried paneer or tofu to add some protein. Adding lemon or lime zest to the dressing can give you that extra zing. You can replace lettuce with young kale or Arugula. If you live in Asia, Gotu kola is a good alternative too. Mine is such an easy basic salad recipe. Get creative and make it your own.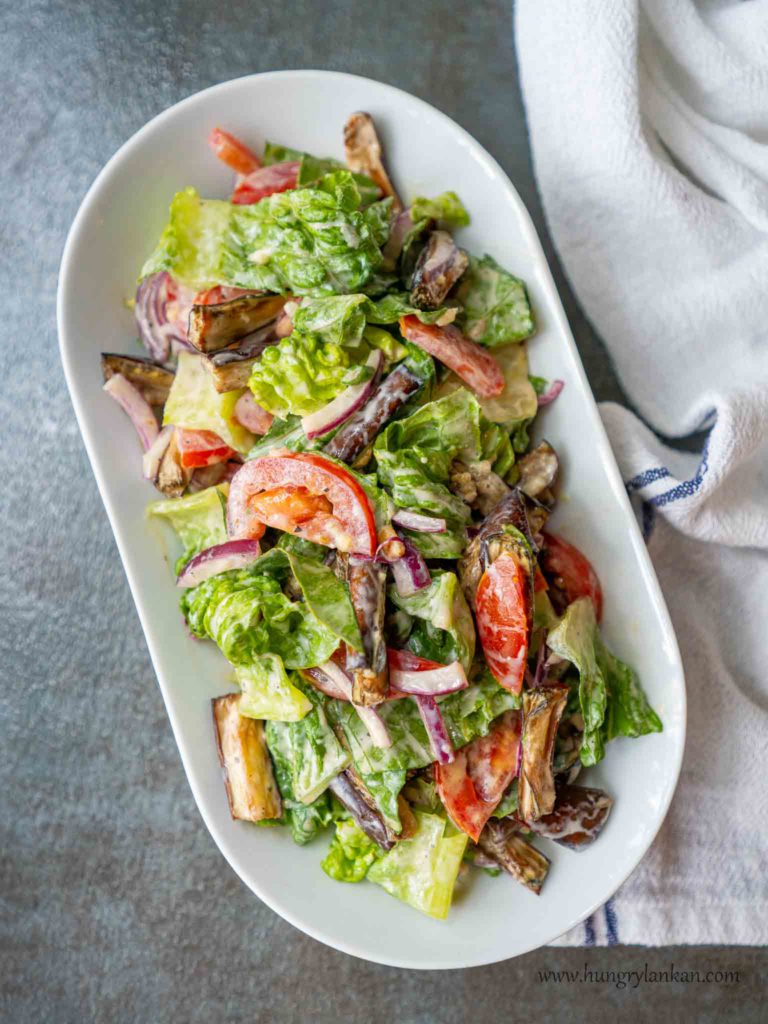 Serving Ideas
Yellow rice with, red lentil curry and some protein like pan-fried chicken drumsticks is my favorite way to serve this eggplant and lettuce salad. If you serve it this way, this is enough for 4 servings.
Goes so well with any grilled protein. My favorite is grilled chicken or pan-fried fish.
Mix in or top with grilled paneer, tofu, chicken or steak, or any protein of your choice and you got yourself a yummy healthy bowl of salad for lunch.
Products I use (amazon affiliate links)